Hi, I'm a bit stuck with this problem.
I'm doing a reconciliation of 2 spreadsheets.
One has Order IDs with a summed out order total, but the other spreadsheet has duplicate Order IDs which sum up to order total when added together. See image for more details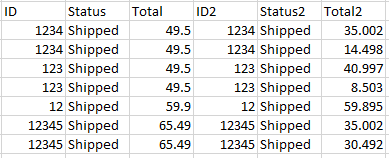 What I'm trying to do is sum Total 2 with the same order IDs, while keeping the same amount of duplicate rows. Would love to hear your ideas. Thank you. In Excel it's just SUMIF, I've tried groupby, but It just aggregates the duplicates. I want to sum the last column, while keep the same row structure.