Hello dear community,
I'm having an optimization problem with my Knime Workflow running on the server via an executor. The workflow lets user import data from a server based on different criteria. At the end just before Posting a Request to the server, there is an UI window summary of the data that will be imported based on the configuration the user chose.
Now the problem lies in the fact that this summary page is supposed to be the last one the user sees before the workflow runs on the server in the background. But what happens is that the user needs to click on next before the workflow continues and even then the executor is showing the loading symbol, which prompts the user to wait. And since the import can take from anywhere between 10 minutes and 4 hours, that is not good.
So my question is, how can I make Knime run nodes in the background, as if it is already finished? Or better, is there a way to make the executor think that the workflow is finished even tough it is still running?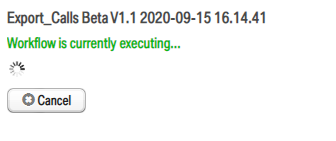 This "Workflow currently executing" should disappear and instead show "Workflow executed sucessfully".

Thanks for your help in advance.
Have a nice day.
El_Capit4n