Dear KNIME Team,
after many trials with the Hive Connector Node on my Windows 10 client I don't get any further.
We had a successful (!) connection to our Cloudera system with the Squirrel SQL client using the following URL:
jdbc:hive2://si-384l.de.bosch.com:10000/esc6;ssl=1;AuthMech=1;KrbServiceName=hive;KrbHostFQDN=si-384l.de.bosch.com;KrbRealm=RB-AA-SI01.BDPS.BOSCH-ORG.COM;mapreduce.job.queuename=root.default
based on the Hive jdbc driver com.cloudera.hive.jdbc41.HS2Driver
In the Hive Connector Node this looks like: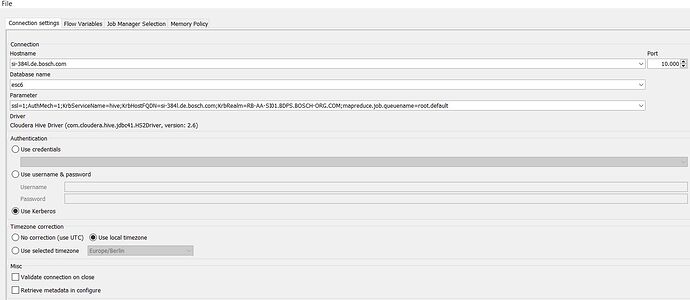 which (according the KNIME log file) creates the right URL
Additionally I added to the knime.ini file
-Djava.security.krb5.conf=C:/Users/grr2pl/krb5.ini
We use LSA authentication which is enabled by the Windows registry
After node execution the error message is as follows:
Execute failed: "Could not create connection to database: unable to find valid certification path to requested target"
Here is the respective log entries:
rg_knime_kerberos.log (38.9 KB)
For completeness here is the contents of the krb5.ini file:
krb5_ini.txt (1.2 KB)
I have no more idea what could be wrong ???
Any help is highly appreciated - thanks in advance
Regards
Roland