I need to mark and remove objects in an Excel sheet.
@ThomasD welcome to the KNIME forum.
Could you tell us more about what you want to do. If you want to remove a sheet it might be possible to re-write the Excel file and leave out the sheet in question.
If you want to do more complicated manipulations you might have to resort to Python (openpyxl):
In some cells of my Excel sheet, I have numbers and objects (based on a system download report).
I would like to remove the objects - automatically, if possible with a node.
In Excel, I can do that manually by showing, marking and then deleting the objects.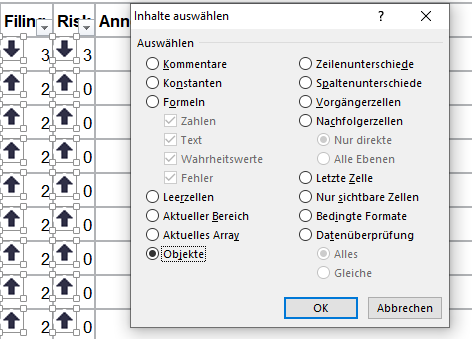 .
Thanks for helping.
Hello @ThomasD,
don't think there is a way to do this with KNIME native nodes. As @mlauber71 pointed out probably Python (which can be integrated with KNIME) is a way to do it.
Br,
Ivan
Hi Ivan,
thanks for your response.
In the meantime I found out, that Knime is not importing objects when using the Exel file reader.
Regards, Thomas
Hello @ThomasD,
then all you have to do to remove objects in an Excel sheet with KNIME is to read Excel with KNIME and write it back into Excel from KNIME
Br,
Ivan
This topic was automatically closed 182 days after the last reply. New replies are no longer allowed.