Hi KNIME community,
I'm a new user and I hope you can help me with my problem. I have 2 tables:
Table1: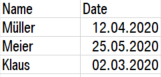 Table2:

So I want to build a workflow, that in table 1 a new column shows the average of the current month and the previous two months from table 2.
For example for Müller: (25+63+48)/3 = 45,3
So i don't know how to create the workflow, if you can help me, it will be very nice.
Thank you.