I followed the (light) documentation on Kafka connector and Kafka consumer in order to consume from Kafka and yet, cannot receive any message.
My Kafka cluster is working, as I can post and consume messages using Python or Java client: in either case, I only need the cluster location (e.g. localhost:9092) and the topic to consume from (e.g. test).
So I configured the cluster location on the Kafka connector, that seem to connect fine. But on the Kafka consumer I don't understand the concept of Client ID and Group ID, that I didn't have to use to successfully produce and consume (with Python or Java).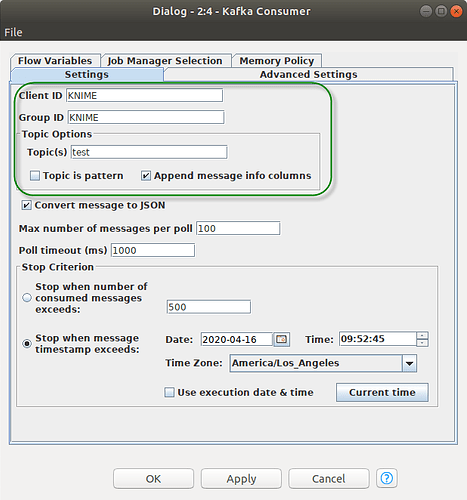 If I set Client ID and Group ID to, say "KNIME" then I keep having "Node created an empty data table", even though the topic has messages in it. And if I remove Client ID and Group ID I have an exception:
Can someone explain how to successfully consume Kafka using the KNIME Kafka connector and consumer?
Thanks in advance!