Hello.
I was wondering if I can export a data to local by using Saprk to CSV node.
Here is a screenshot of my workflow.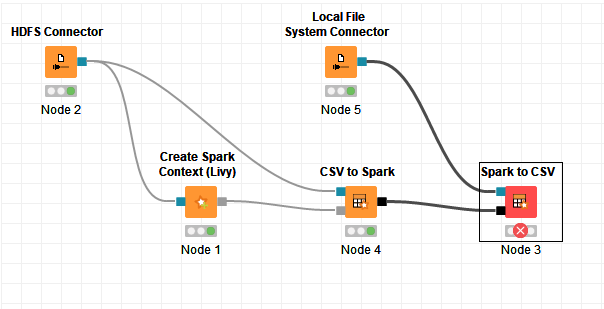 I extracted a data from HDFS and converted to Spark data by using CSV to Spark.
And I added Local File System Connector and Spark to CSV nodes.
But the error was occured like this:
ERROR Spark to CSV 3:3 Execute failed: Mkdirs failed to create file:/C:/Users/khhfh/OneDrive/바탕 화면/test/_temporary/0/_temporary/attempt_20220908132858_0009_m_000000_25 (exists=false, cwd=file:/tmp/hadoop-hdfs/nm-local-dir/usercache/hdfs/appcache/application_1662597702074_0002/container_1662597702074_0002_01_000002) (IOException)
I want to export Spark data locally without converting it to another type.
I'd appreciate it if you could let me know if it's possible.
Thanks,
hhkim