I want to call Jupyter notebook in KNIME and get back the current notebook name.
The code in notebook as below:
def get_notebook_name():
"""Execute JS code to save Jupyter notebook name to variable notebook_name"""
from IPython.core.display import Javascript, display_javascript
js = Javascript("""IPython.notebook.kernel.execute('notebook_name = "' + IPython.notebook.notebook_name + '"');""")
return display_javascript(js)
def get_notebook_path():
"""Execute JS code to save Jupyter notebook path to variable notebook_path"""
from IPython.core.display import Javascript, display_javascript
js = Javascript("""IPython.notebook.kernel.execute('notebook_path = "' + IPython.notebook.notebook_path + '"');""")
return display_javascript(js)
execute javascript
notebook_name = get_notebook_name()
notebook_path = get_notebook_path()
then use magic cmd to show the name and path:
%whos
print the notebook_name and notebook_path, both of them are None.
print them again, now I can get the correct name and path.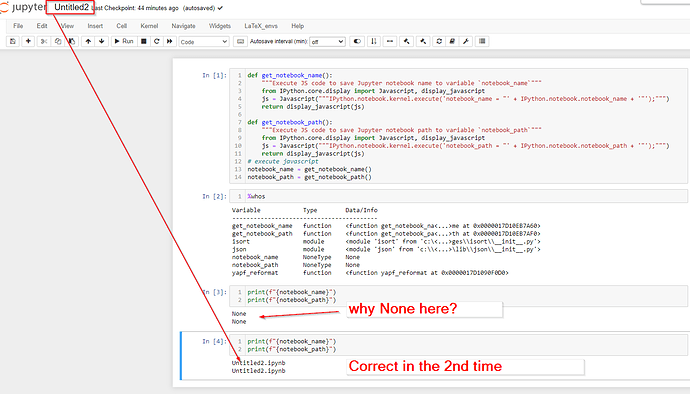 Appreciate any solution to get the notebook_name at the first print.