Newbie here. I've been building a workflow that reduces table columns from from ones containing the info and data name into a separate "Info" column(s) with columns with just the type of data.Due to my use of loops I am always left with two forms of the data. Its probably best if I illustrate my conundrum below:
Below are two tables that contain an "Info" column with two types ("x" and "y") and three data columns all with unique values (1-16). Two data cols have the same number of results while the third has twice as many, resulting in the following tables (you'll recognize the two types of loop end node results).
(original columns looked like "Data1-X, Data1-Y, Data 2-X, Data 2-Y…")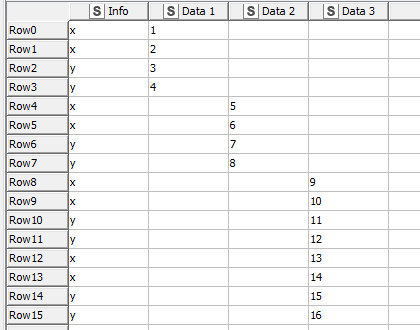 What I would like is this: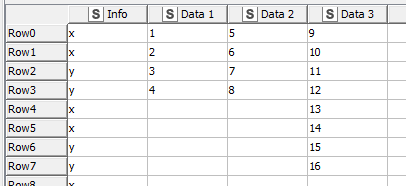 I've tried various grouping using temporary group columns, the unpivoting node, collection/splitting. But I can never get it right. My next attempt was going to involve splitting the columns, renaming the Info Iterations to just Info, then merging. But this would involve yet another intensive expensive loop. Most of the time I find that if I design my flow upstream to avoid confounding results to begin with things are far better. But I have yet to nail that either. So until I develop my skills better, any ideas for reducing the tables above for now?
Thank you very much in advance. This forum has been a wealth of help for me.