Hi,
I get CSV files from a client the have some weird characters () as a prefix on the first column which is causing some issues when I am trying to do joins later in the flow. It is not the first time I have encountered these or similar characters in exported headers so I need to reliable and reusable method to deal with this.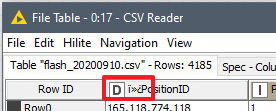 After I extracted the header I tried to remove the offending characters with RegexReplace (/W) which didn't work and because I cannot find the characters in the character map I cannot do a normal replace or remove.
Any suggestions welcome.
Thanks.
tC.