I'm looking for a way for KNIME to alert me if a node output port has records rather than empty. For example, in a joiner it's possible that new values will appear in the data, and I want my workflow to alert me in case I have unmatched data in the join.
What node can I use to attach to port1 or port2 in a Joiner to check if record count != 0?
In Alteryx this is trivial using the Test tool, which I can configure to throw a red workflow-stopping error if there are unmatched records in the join, see image below. How do I replicate this in KNIME please?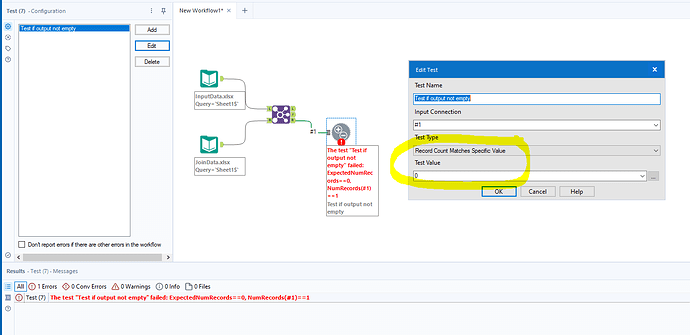 The reason I want to be alerted to unjoined data is so that I can then update the join file, perhaps because new or unanticipated categories have appeared in the source data which weren't present when the workflow was designed. It's therefore good practice to alert the user rather than continue on but 'losing' the unmatched data, if that makes sense.