Hi,
Help Needed!
I'm working on a solution of looping to split inbound demand (By truck) to current inv table.
So, two inputs here, inbound demand (by truck by SKU), inv table (By SKU):
Inbound Demand: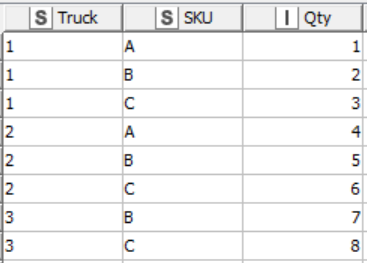 Inv Table:



Processing Logic:
Step 1. By truck to start calculate, which here I use group loop start for next calculation from Inbound Demand;
Step 2. Calculate with Inv Table, whatever is just processing logic but need to engage inv table refreshed, to judge the Loc Column;
Step 3. Put the new demand add into Inv Table of related Loc, then update the inv table;
Step 4. Jump to next generation, new truck with new inv table;
Base on my needs, I drafted the model like below, but obviously wrong~


Anyone here could help me on this? Very appreciate!
Best Regards.
Vincent