Hi,
I have a question regarding customer clustering with the k-Means node which I have done according to the KNIME tutorial on a sample set of transactional data and get this cluster output: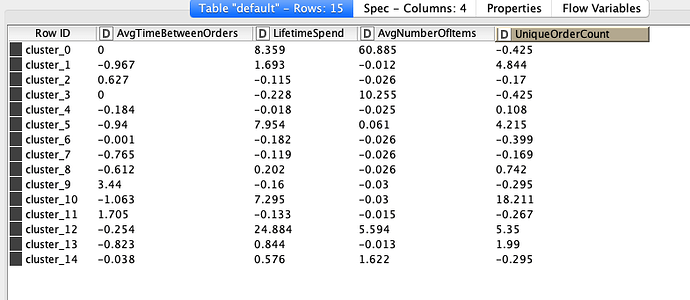 Screenshot 2018-12-06 at 13.05.24
Now from what I'm used to, a cluster is defined by ranges of values where each customer belongs to (for example Cluster 1 would be 1.6393 to 2 in LifetimeSpend) but in the k-Means output I only see a signal number. How do I then determine what characteristics are included in my cluster because a cluster can not have a signal value for each attribute (that would create to many clusters and by default defeat the purchase of creating clusters in the first place)?
Also, how do I evaluate the models effectives of creating good clusters or not?
Thanks a lot for your help!