I've checked various counter nodes - but I'm afraid I'm still a monkey playing with sticks here.
I have a subset of data that looks like this: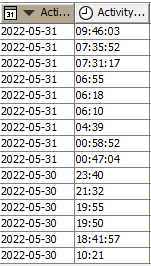 There is a column not shown here that holds FedEx tracking numbers. For this subset, the tracking number is the same.
I'd like to be able to count these from 1 for the earliest date and time, up to the last available row before the tracking number (i.e., the 3rd row), changes. In this case, these rows would be counted from 1 to 15, at which point the next row would be a different tracking number and thus would start again from 1.
Any pointers would be appreciated!