Hello guys,
I would like to ask you one very important question for me.
At now days I have to deal with ipv6 addresses. Transform them and enrich by some additional very useful information such country code, country, coordinates etc.
To be able do this action I need to convert ipv6 into decimal format. Unfortunately this format consists of 38 digits (compare to ipv4 which has only 15 digits).
The knime workflow is attached and contains just two working nodes: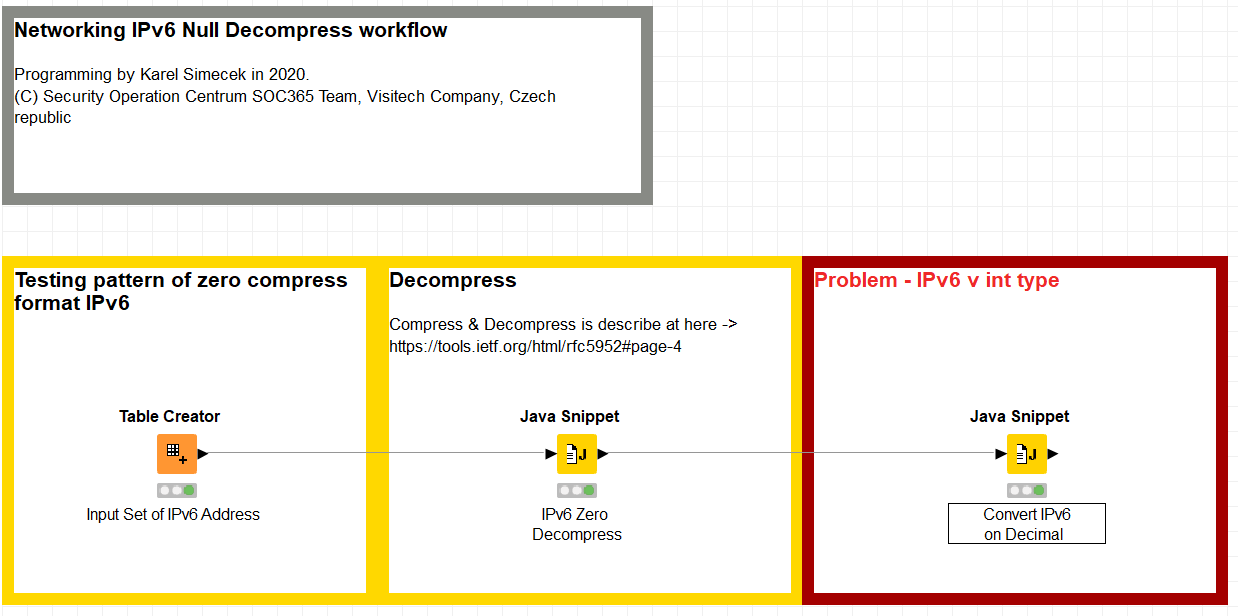 table creator: contains all possible compressed ipv6 addresses
java snippet - IPv6 Zero Decompress, decompression of compressed ipv6 to full ipv6 format.
And now problem comes.
In the second java snippet called Convert IPv6 to Decimal format. But due to so long number (38 digits) is not possible to convert it successfully directly to longinteger or to double or some another numeric format.
Can someone help me how to solve this problem?
Once I have decimal number I am able to use node Binner (dictionary) and make range look up and returns country to particular ipv6 address.
Example of country list bellow:
Start Number - End Number - Country code - Country name
"42540528726795050063891204319802818560","42540528727168608142152124734787026943","JP","Japan"
For ipv4 it works perfectly. Can someone help me please? I think this workflow could be very useful for many people.
Thank you
ipv6-test.knwf (11.3 KB)