Hello there, i have a huge issue.
I am trying to convert excel type of numbers from STRING like (3009; 3.14; 13.0031) etc to DOUBLE in KNIME.
When I try to read the data either from excel or csv and parse the fields for example:
Field1 -> INTEGER (3009 or 120)
Field2 -> DOUBLE (3.14 or 13.0031)
…FieldN -> either int or double
KNIME fails to parse all fields, so I am unable to use math formulas.
It seems to fail because in the first rows (>50, not known exactly how many rows) of those fields , there are no values basically we have a case of missing values.
Since it varies for each field when values occur, I cannot skip the missing values rows.
I am left to input as STRING.
But when I try String 2 Number I have issue because KNIME can only recognize corectly INTEGER but not DOUBLE. For the DOUBLE case it recognizes wrongly because the digits after decimal point varies for example as mentioned above it can be
3.14 or it can be 3.000014 or also 3.1 etc
I used the parsing as described here: Type from String to Integer
@armingrudd @Jax
So that means that for decimal numbers the String to Number gives me the following wrong parsing:
LEFT Column are the intital numbers RIGHT Column are the wrongly parsed numbers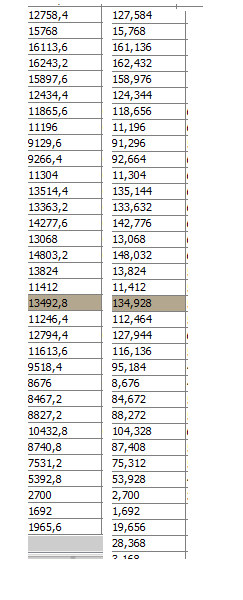 Can someone clever help me?
I would appreciate any help and suggestion how we could recognize all numbers so that math formulas can be aplied later on.
Thank you a lot in advance!