Hi all,
a Cdata JDBC driver for enabling Splunk connection on KNIME is currently being tested. The driver was added at the path File > Preferences > KNIME > Databases and with the support of IT for firewall settings, the connection is apparently in place.
An ad hoc Database connector was set up for testing the driver, which according to Cdata should let us query Splunk using SQL and this is what we would like to test.
Database driver: cdata.jdbc.splunk.SplunkDriver
Database URL: jdbc:splunk:URL=https://datahub.mycompany.zone:8089
The database connector feeds a Database reader with a very simple SQL test query (SELECT TOP 10 customer_id FROM tablexyz).
However the query fails after running for a few minutes, returning the following error message: ERROR Database Reader 0:3 Execute failed: ("pjc"):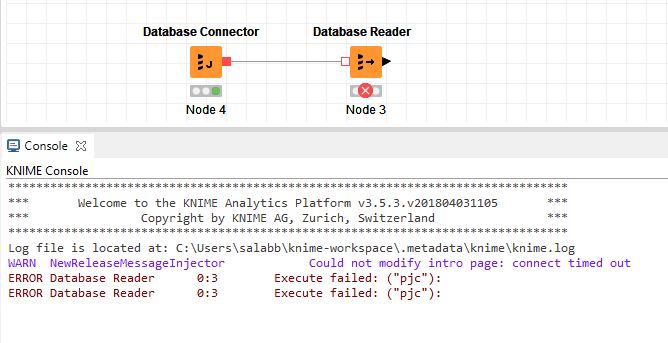 The error message was googled but nothing specific was retrieved about that.
After talking to Cdata and my company's IT department, a possible cause of the problem might be tied to Splunk datahub SSL certificate, which is a self-signed one. Is there an option for KNIME to ignore self-signed certificates?
Hope somebody can help with this.
Thanks a lot in advance, best regards
SA