Hi All,
I'm encountering a problem when using the Joiner node. When I select a "full outer join", the full join doesn't seem to work correctly, rather data from the 'right' table is discarded and placed at the bottom of the table with '?' in the place the the joining column(s). I've made a very simple working example below where two tables are joined, where each contains a single month missing from the other.

Joining these tables with an outer join on the column 'month' I would expect the following: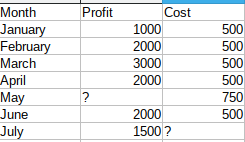 where the months missing data (May missing from table 1, and July missing from table 2) are both returned, but with ? in place of the missing value.
However through Knime i get the following when using a full outer join: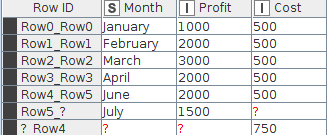 Where May's result has been moved to the bottom and the month is replaced with a '?', which mean's i'm losing the entry for May. The node is registering that this entry is present when doing the join, since the "profit" data is retained, but the month gets replaced with "?" instead of simply adding a row with Month = May, Profit = ?, Cost = 750. The node is correctly dealing with the fact that the month "July" is missing from the right table however, giving a row with, month = July, profit = 1500, cost = 1.
Another consequence of this is that swapping the order or the two tables results in a different output, which doesn't seem to make sense for an outer join, as shown below: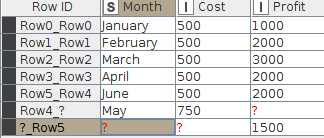 This time May is present, but July is missing.
Does anyone know any solutions to this issue??
Thanks very much!