Hi Team,
I am new to KNIME and this is my First post.
I have two questions for creating a workflow.
1st Question In Source file I have around 90+ Column as Header in one sheet and i have a list of 20 Column Name(in Rows) in another sheet.
How can I eliminate other unnecessary Columns using Joiner as the loop instead of Processing all the 90+ Columns.
this will help me process the Loop for only necessary fields and saves a lot of time.
2nd Question I am trying to use Loop with Column Rename Regex and Joiner.
Few field have Special Characters in the Header like (#1) and Column Rename Regex is throwing an warning and the field name is not getting renamed and an error is occurring at Joiner as the name is not Matching.
Below is a screenshot for your reference.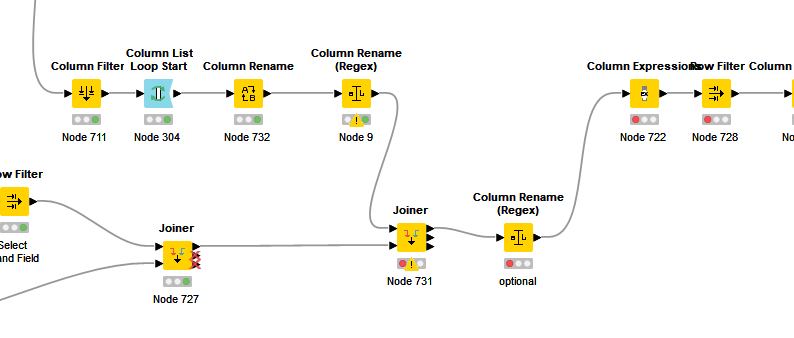 Also Please find the attached workflow as well.
Could you please help me with the above request.
KNIME_Test_Project_V1.knwf (85.7 KB)
Thank you for your help in Advance.