Hi there,
I have two tables, one table containing information on when a particular car was on the road and another table which is a scheduling table showing when certain cars are to be used and by which team.
I need to join them together in Knime (the two tables will draw from databases and are very very big, we are talking hundreds of thousands of records).
I have an example of what they look like. Basically I want to join the two tables so I can know which team was driving the car because the cars can be shared between different teams: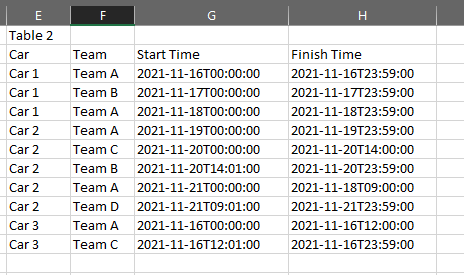 Please ignore if the times and dates don't make sense, I quickly threw this together, I just need help with the logic.
I've looked up many examples that make use of Binner (Dictionary) etc but I couldn't find any help on matching it based on the Car # and then the time the car was driving (Table 1) against the scheduled times (Table 2).
Any help is very much appreciated please.
Cheers,