Thanks for this info. If possible it would still be useful I think to run the workflow. It should be simply a case of entering the full path for a test xlsx file (use a new name, as it will initially create it). And then run. Maybe it will throw errors somewhere, or turn up some info . If you are able to do so, posting back a screen shot of the output table might be useful.
It might even work, and if it does that will actually tell us something too.
One other thing though… looking at your workflow… if the new Excel Writer took just a little longer to write than the old deprecated version (to a network share perhaps!), this could throw up some issues in your workflow, because there isn't anything stopping the Excel Reader from trying to read while (or before) the first writer is writing. Nor is there anything stopping the second writer trying to write before the first!
Could you try attaching output flow ports from your first Excel Writer to your second Table Creator, and then from your second Excel Writer to your Excel Reader (removing the direct flow to the Excel Reader) and see if that changes the result. At the moment you have no guarantee about the sequence of events in your flow and you might be at the mercy of network access, and sequencing the flow ports this way would resolve that problem if it exists.
e.g.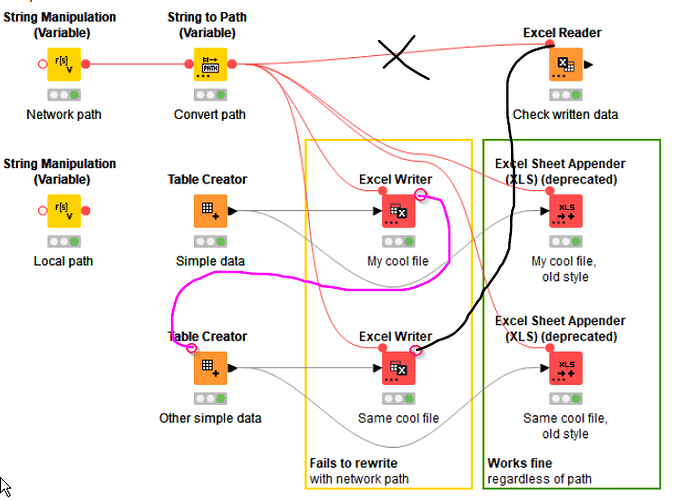 I'm assuming that the deprecated Sheet Appenders aren't trying to write to the same files within this flow.