Joining a table containing a geometry to another table using the Joiner node throws an error
Problem
A workflow (with data) demonstrating the problem can be downloaded from the KNIME hub here.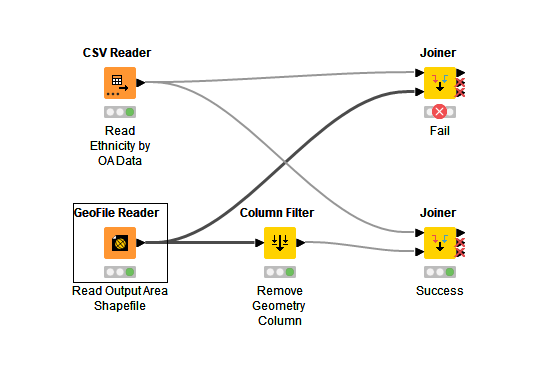 Two tables are read by the workflow:
The top table is a CSV file containing an extract of statistical data (Source: UK Office of National Statistics)
The bottom table is a Shapefile containing geography polygons (Source: UK Open Geography Portal)
The joiner is setup to join the two tables based upon the OA2021 code.
Joining the tables when the geometry column is included in the bottom table causes the joiner to fail.
Removing the geometry table the joiner succeeds.
Desired Outcome
It would be great if we could join tables containing geometry columns.
Additional Information
The console outputs the following error when the top joiner node fails:
ERROR Joiner               3:19       Execute failed: Error while prefetching rows
ERROR Joiner               3:19       Error when attempting to close open closeable.

The Workspace log issues the following error (yikes! the universe is about to explode).
Message:
Memory was leaked by query. Memory leaked: (294912)
Allocator(ArrowColumnReadStore) 0/294912/294912/9223372036854775807 (res/actual/peak/limit)

Exception Stack Trace:
java.lang.IllegalStateException: Memory was leaked by query. Memory leaked: (294912)
Allocator(ArrowColumnReadStore) 0/294912/294912/9223372036854775807 (res/actual/peak/limit)

	at org.apache.arrow.memory.BaseAllocator.close(BaseAllocator.java:437)
	at org.knime.core.columnar.arrow.AbstractArrowBatchReadable.close(AbstractArrowBatchReadable.java:100)
	at org.knime.core.columnar.arrow.ArrowBatchReadStore.close(ArrowBatchReadStore.java:1)
	at org.knime.core.columnar.cache.data.ReadDataReadCache.close(ReadDataReadCache.java:178)
	at org.knime.core.columnar.data.dictencoding.DictEncodedBatchReadable.close(DictEncodedBatchReadable.java:93)
	at org.knime.core.columnar.cache.object.ObjectReadCache.close(ObjectReadCache.java:108)
	at org.knime.core.data.columnar.table.WrappedBatchReadStore.close(WrappedBatchReadStore.java:187)
	at org.knime.core.data.columnar.table.DefaultColumnarBatchReadStore.close(DefaultColumnarBatchReadStore.java:191)
	at org.knime.core.data.columnar.table.ColumnarRowReadTable.close(ColumnarRowReadTable.java:208)
	at org.knime.core.data.columnar.table.AbstractColumnarContainerTable.clear(AbstractColumnarContainerTable.java:201)
	at org.knime.core.data.columnar.table.UnsavedColumnarContainerTable.clear(UnsavedColumnarContainerTable.java:133)
	at org.knime.core.node.BufferedDataTable.clearSingle(BufferedDataTable.java:972)
	at org.knime.core.node.Node.disposeTables(Node.java:1727)
	at org.knime.core.node.Node.cleanOutPorts(Node.java:1691)
	at org.knime.core.node.Node.cleanup(Node.java:1851)
	at org.knime.core.node.workflow.NativeNodeContainer.cleanup(NativeNodeContainer.java:386)
	at org.knime.core.node.workflow.WorkflowManager.cleanup(WorkflowManager.java:9805)
	at org.knime.core.node.workflow.WorkflowManager.removeNode(WorkflowManager.java:1060)
	at org.knime.core.node.workflow.WorkflowManager.removeProject(WorkflowManager.java:796)
	at org.knime.workbench.ui.navigator.ProjectWorkflowMap.remove(ProjectWorkflowMap.java:439)
	at org.knime.workbench.editor2.WorkflowEditor.dispose(WorkflowEditor.java:676)
	at org.eclipse.ui.internal.e4.compatibility.CompatibilityPart.invalidate(CompatibilityPart.java:264)
	at org.eclipse.ui.internal.e4.compatibility.CompatibilityPart.destroy(CompatibilityPart.java:421)
	at java.base/jdk.internal.reflect.NativeMethodAccessorImpl.invoke0(Native Method)
	at java.base/jdk.internal.reflect.NativeMethodAccessorImpl.invoke(Unknown Source)
	at java.base/jdk.internal.reflect.DelegatingMethodAccessorImpl.invoke(Unknown Source)
	at java.base/java.lang.reflect.Method.invoke(Unknown Source)
	at org.eclipse.e4.core.internal.di.MethodRequestor.execute(MethodRequestor.java:58)
	at org.eclipse.e4.core.internal.di.InjectorImpl.processAnnotated(InjectorImpl.java:995)
	at org.eclipse.e4.core.internal.di.InjectorImpl.processAnnotated(InjectorImpl.java:960)
	at org.eclipse.e4.core.internal.di.InjectorImpl.uninject(InjectorImpl.java:201)
	at org.eclipse.e4.core.internal.di.Requestor.uninject(Requestor.java:177)
	at org.eclipse.e4.core.internal.contexts.ContextObjectSupplier$ContextInjectionListener.update(ContextObjectSupplier.java:89)
	at org.eclipse.e4.core.internal.contexts.TrackableComputationExt.update(TrackableComputationExt.java:103)
	at org.eclipse.e4.core.internal.contexts.EclipseContext.removeListenersTo(EclipseContext.java:485)
	at org.eclipse.e4.core.contexts.ContextInjectionFactory.uninject(ContextInjectionFactory.java:184)
	at org.eclipse.e4.ui.internal.workbench.swt.PartRenderingEngine.safeRemoveGui(PartRenderingEngine.java:947)
	at org.eclipse.e4.ui.internal.workbench.swt.PartRenderingEngine$4.run(PartRenderingEngine.java:861)
	at org.eclipse.core.runtime.SafeRunner.run(SafeRunner.java:45)
	at org.eclipse.e4.ui.internal.workbench.swt.PartRenderingEngine.removeGui(PartRenderingEngine.java:845)
	at org.eclipse.e4.ui.internal.workbench.swt.PartRenderingEngine.subscribeTopicToBeRendered(PartRenderingEngine.java:185)
	at jdk.internal.reflect.GeneratedMethodAccessor39.invoke(Unknown Source)
	at java.base/jdk.internal.reflect.DelegatingMethodAccessorImpl.invoke(Unknown Source)
	at java.base/java.lang.reflect.Method.invoke(Unknown Source)
	at org.eclipse.e4.core.internal.di.MethodRequestor.execute(MethodRequestor.java:58)
	at org.eclipse.e4.core.di.internal.extensions.EventObjectSupplier$DIEventHandler.handleEvent(EventObjectSupplier.java:92)
	at org.eclipse.equinox.internal.event.EventHandlerWrapper.handleEvent(EventHandlerWrapper.java:205)
	at org.eclipse.equinox.internal.event.EventHandlerTracker.dispatchEvent(EventHandlerTracker.java:203)
	at org.eclipse.equinox.internal.event.EventHandlerTracker.dispatchEvent(EventHandlerTracker.java:1)
	at org.eclipse.osgi.framework.eventmgr.EventManager.dispatchEvent(EventManager.java:234)
	at org.eclipse.osgi.framework.eventmgr.ListenerQueue.dispatchEventSynchronous(ListenerQueue.java:151)
	at org.eclipse.equinox.internal.event.EventAdminImpl.dispatchEvent(EventAdminImpl.java:133)
	at org.eclipse.equinox.internal.event.EventAdminImpl.sendEvent(EventAdminImpl.java:75)
	at org.eclipse.equinox.internal.event.EventComponent.sendEvent(EventComponent.java:44)
	at org.eclipse.e4.ui.services.internal.events.EventBroker.send(EventBroker.java:55)
	at org.eclipse.e4.ui.internal.workbench.UIEventPublisher.notifyChanged(UIEventPublisher.java:63)
	at org.eclipse.emf.common.notify.impl.BasicNotifierImpl.eNotify(BasicNotifierImpl.java:424)
	at org.eclipse.e4.ui.model.application.ui.impl.UIElementImpl.setToBeRendered(UIElementImpl.java:314)
	at org.eclipse.e4.ui.internal.workbench.PartServiceImpl.hidePart(PartServiceImpl.java:1401)
	at org.eclipse.e4.ui.internal.workbench.PartServiceImpl.hidePart(PartServiceImpl.java:1331)
	at org.eclipse.e4.ui.workbench.renderers.swt.StackRenderer.closePart(StackRenderer.java:1182)
	at org.eclipse.e4.ui.workbench.renderers.swt.StackRenderer$3.close(StackRenderer.java:1042)
	at org.eclipse.swt.custom.CTabFolder.onMouse(CTabFolder.java:1961)
	at org.eclipse.swt.custom.CTabFolder.lambda$0(CTabFolder.java:336)
	at org.eclipse.swt.widgets.EventTable.sendEvent(EventTable.java:89)
	at org.eclipse.swt.widgets.Display.sendEvent(Display.java:4251)
	at org.eclipse.swt.widgets.Widget.sendEvent(Widget.java:1066)
	at org.eclipse.swt.widgets.Display.runDeferredEvents(Display.java:4068)
	at org.eclipse.swt.widgets.Display.readAndDispatch(Display.java:3645)
	at org.eclipse.e4.ui.internal.workbench.swt.PartRenderingEngine$5.run(PartRenderingEngine.java:1155)
	at org.eclipse.core.databinding.observable.Realm.runWithDefault(Realm.java:338)
	at org.eclipse.e4.ui.internal.workbench.swt.PartRenderingEngine.run(PartRenderingEngine.java:1046)
	at org.eclipse.e4.ui.internal.workbench.E4Workbench.createAndRunUI(E4Workbench.java:155)
	at org.eclipse.ui.internal.Workbench.lambda$3(Workbench.java:644)
	at org.eclipse.core.databinding.observable.Realm.runWithDefault(Realm.java:338)
	at org.eclipse.ui.internal.Workbench.createAndRunWorkbench(Workbench.java:551)
	at org.eclipse.ui.PlatformUI.createAndRunWorkbench(PlatformUI.java:156)
	at org.knime.product.rcp.KNIMEApplication.start(KNIMEApplication.java:191)
	at org.eclipse.equinox.internal.app.EclipseAppHandle.run(EclipseAppHandle.java:203)
	at org.eclipse.core.runtime.internal.adaptor.EclipseAppLauncher.runApplication(EclipseAppLauncher.java:136)
	at org.eclipse.core.runtime.internal.adaptor.EclipseAppLauncher.start(EclipseAppLauncher.java:104)
	at org.eclipse.core.runtime.adaptor.EclipseStarter.run(EclipseStarter.java:402)
	at org.eclipse.core.runtime.adaptor.EclipseStarter.run(EclipseStarter.java:255)
	at java.base/jdk.internal.reflect.NativeMethodAccessorImpl.invoke0(Native Method)
	at java.base/jdk.internal.reflect.NativeMethodAccessorImpl.invoke(Unknown Source)
	at java.base/jdk.internal.reflect.DelegatingMethodAccessorImpl.invoke(Unknown Source)
	at java.base/java.lang.reflect.Method.invoke(Unknown Source)
	at org.eclipse.equinox.launcher.Main.invokeFramework(Main.java:659)
	at org.eclipse.equinox.launcher.Main.basicRun(Main.java:596)
	at org.eclipse.equinox.launcher.Main.run(Main.java:1467)

Session data:
eclipse.buildId=unknown
java.version=17.0.5
java.vendor=Eclipse Adoptium
BootLoader constants: OS=win32, ARCH=x86_64, WS=win32, NL=en_GB
Command-line arguments:  -os win32 -ws win32 -arch x86_64 -data file:/D:/workspace/knime/

DiaAzul