Why Everytime I start the new instance, I have to set the R preferences ?
Hi there!
Because each KNIME instance has its own metadata (.metadata is folder in workspace) which include preferences which include R settings. When you are creating new instance from within KNIME you can copy settings from an active one. See picture.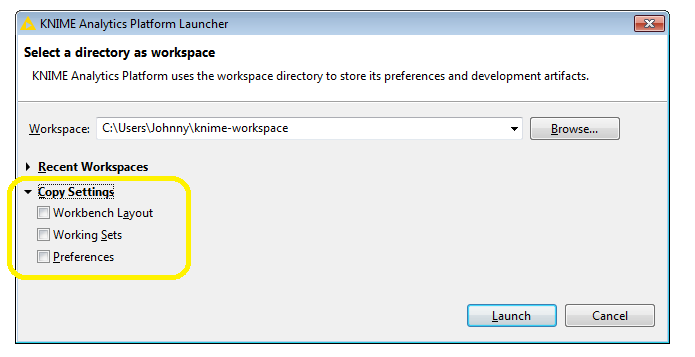 I assume that by instance you mean workspace
Br,
Ivan
I could not find this copy settings option with my version (3.6.2)
Earlier I was not asked everytime to change the Knime R preferences, but with this version I am not able to save the settings
Hi!
This copy setting is when creating new workspace if by instance you mean workspace. Do you? Or by new instance you mean just starting KNIME?
Br,
Ivan
yeah, Starting the new knime session…
Ok. I see. So R preferences are not applied. Can you try to change some other preference, save it, close KNIME, open KNIME and inspect the changed preference does it have new value?
Br,
Ivan
No, it't not reflecting the changes. I tried to change the database preferences, but after opening KNIME again it was reset to the default value.
Hi there!
So no preferences are being saved. Have you recently made an upgrade to KNIME? Can you try installing a fresh KNIME version and then inspect behavior?
Br,
Ivan
even after updating KNIME, I have to change the preferences everytime.
Hi there!
Can you try changing some preference and then exporting it (File–> Export Preferences)? In exported .epf file this change should be visible as only non default preferences are written.
Br,
Ivan
Hi there!
You mean you do not see any change in preferences file? Do you have permission to write to your workspace directory?
Can you try creating a new workspace with a different location and inspect preferences change on it?
Br,
Ivan