Hi,
I have a workflow that utilises Try/Catch within a loop to help relay errors to the users, however, I've encountered an error in the workflow with the loop end - 'Encountered Loop End without compatible head'.
I believe this is due to the fact that the Loop End does not recognise the Table Row to Variable Loop Start node that I have in my workflow - I've checked the scope (nodes outlined in black) and you can clearly see that the loop start node is not linked to the loop end (screenshot below).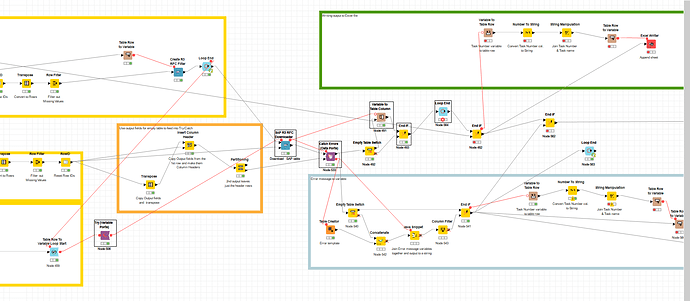 I've investigated and as such, I added a test loop end node at a different point of the workflow (highlighted in red below - NOTE, this node is in the incorrect place and doesn't meet my needs)
As you can see below, when I checked the scope of this loop end, I no longer get the error and the Loop Start node plus all of the upstream and downstream nodes are captured within the scope.
Has anyone seen a similar issue previously? Is there anything obvious in my workflow that looks incorrect?
Any advice would be greatly appreciated as this particular case is driving me crazy

Thanks in advance.
Pete