Hi folks,
Could you please advise - what would be the best way to achieve that:
I have 2 data sets with points
I have to find a pair for each point from 1st in 2nd
If a point in 2nd data set is found - I would like to exclude it from scan for every next point from 1st data set. Kind of re-send new data set to internal loop
At the end - I would like to have all points that are matching and all points that are not matching in one table
Tried to use:
Recursive Loop - the issue is I have to re-run all not matching points after finishing the run of internal loop and send it back to internal loop, but as I'm processing record by record they are not collected. Seems I would need an another internal loop which takes the results of first internal loop and recursive them back to initial internal loop. Too complicated?

Loop end (2 Ports) - Not sure how can I return back collected records to Chunk Loop Start after the run in internal loop

I thought to remember the not matching ids and send them back to update a variable - but not sure how to achieve it. Like Merge Variable or use of Table Row to Variable?
2 shapes.xls (25 KB)
Reorder Points - forum.knwf (37.4 KB)
And a huge ask to explain that moment for nested loops:
Why do I need to connect variables between nested loops to make it works? I've red couple of forum posts but still confused with that scenario.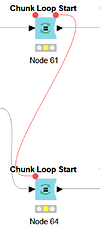 Without it my Column Appender shows the error:
"Can't Merge FlowVaAriable Stacks! (likely a loop problem)?"
And in Console I can see that:
"Unable to merge flow object stacks: Conflicting FlowObjects: <Loop Context (Head 0:61, Tail unassigned)> - iteration 0 vs. <Loop Context (Head 0:64, Tail unassigned)> - iteration 0 (loops/scopes not properly nested?)"
Appreciate any advise/help and explanations
BR,
Egor