Hello all,
I'd like to make a quick thanks to all the Knime contributors to the Knime community form. I have learned a great deal from reading these post over the last month and Knime is one of my favorite analytical platforms now.
I am currently working on a preprocessing work flow to split up the meta data header from LAS (Log ASCII Standard files) http://www.cwls.org/las/
These files can be read by File Reader and placed in a break down of 1 columns and rows for each line of text in the data. An example of .las is opened in notepad shown here.

And when File Reader read the file it comes out as shown below.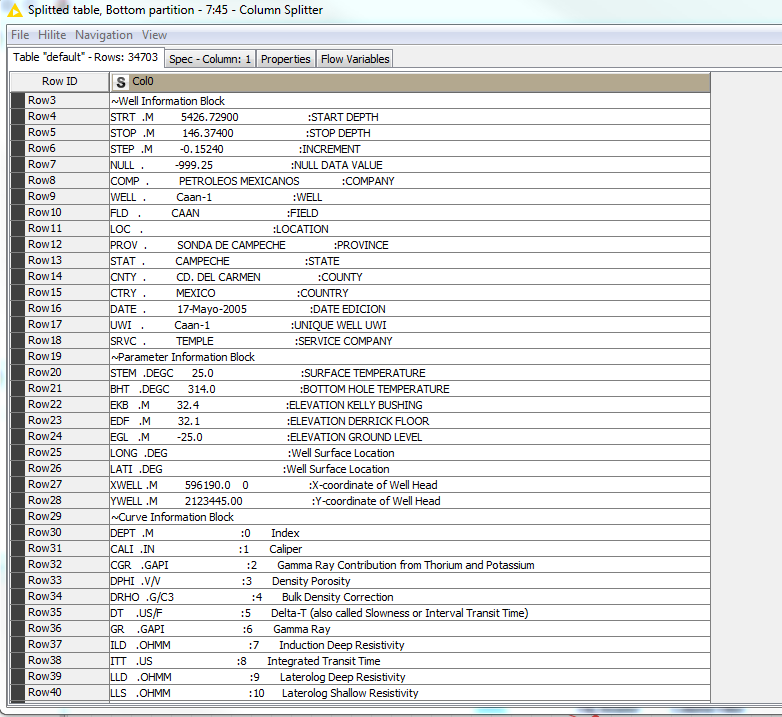 My problem is, How can I break up the column with the information below each "~" into three columns called ??
~W(Well Information)
Mnemonics .Units Value : Description
|STRT |.F| nnnn.nn| : Start Depth|
|STOP |.F| nnnn.nn| : Stop Depth|
|STEP |.F| nnnn.nn| : Step Depth|
|NULL |.| nnnn.nn| : Null Value; Common Null Values are -999.25, -9999, etc.|
Is this something I can do with the manipulations nodes under the Split and Combine Folder or will I have to write a python or java snipping script? The settings for cell splitter are not quite for what I'm looking for.
Thanks for the help,
Michael
Graduate Student