Hi there

I am having an issue getting an oAuth token from microsoft using the batch mode.
My company's expiration policy is 1h so when I need to fetch some files to work some KNIME magic in the morning, I get a "not Authenticated" message from the console log.
Here are the steps I took and a screenshot of the workflow and the batch mode log:
Login interactively to allow KNIME application access, R/W

Changed login method to "Username/Password" so token can be requested without popup (works once you reset the node, etc)

reset all nodes and reran all the nodes - Test passed


reset all the nodes,+ save

run cmd to knime folder and "test" workflow with options (-consoleLog -noexit -nosplash -reset)
Console log states that the connection is no longer available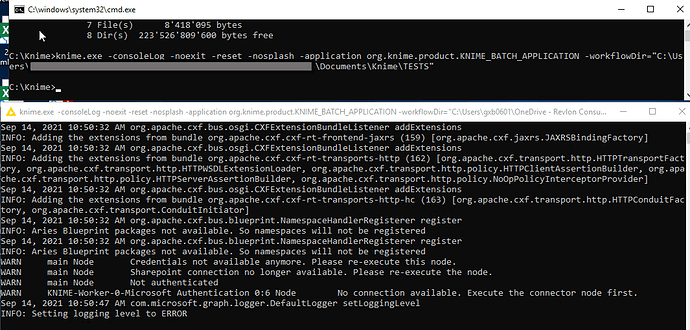 Please, if anyone can help me figure out why this does not work in batch mode, or what I am doing wrong?
Any help is greatly appreciated


Kindly
G