I am trying to use a time/ Date stamp incl milliseconds as the x-axis on the Jfree line chart. I converted my original unix timestamp using the UNIX timestamp to Date&Time node. I then had to convert this timestamp to the legacy Date&Time as otherwise Jfree didn't recognise it.
I then get an error stating that
Execute failed: You are trying to add data where the time period class is org.jfree.data.time.Second, but the TimeSeries is expecting an instance of org.jfree.data.time.Millisecond.
If I change the series to EXCLUDE milliseconds it works, but then I have the issue of duplicates appearing.
Execute failed: You are attempting to add an observation for the time period Thu Aug 06 16:11:47 CEST 2020 but the series already contains an observation for that time period. Duplicates are not permitted. Try using the addOrUpdate() method.
Can Jfree import millisecond time and date somehow?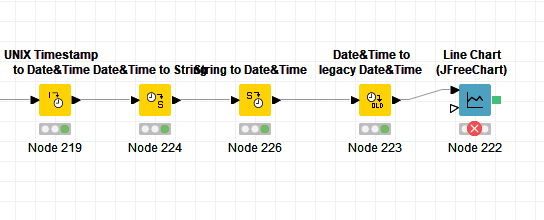 I am using the latest version of Knime with the latest updates installed.
Thanks