Hi all,
I am stuck with a stupid - I think - issue:
I have an Excel file with multiple sheets but different kind of data in each of the sheet. Basically each sheet should be used as a lookup sheet for different joiners.
Exmple
Sheet 1, named Geography, has a list of Cities and States and it is used to look up the State in the main flow
Sheet 2, names Customers has Customer ID and Customer Name and it is used to look up the Customer Name in the main flow
… and so on, with a total of ca 10 lookup sheets. SHeet names never changes
Now, the most obvious think is to have 10 Excel reader nodes in the workflow that point to each specific sheet name with each output feeding the appropriate Joiner.
And I could live with it.
…but what I would like to do is a combination of nodes that reads each excel sheet and put it in a specific table (in the workflow, not written on the disk) that then is used for the Joiners
Something like this illustration: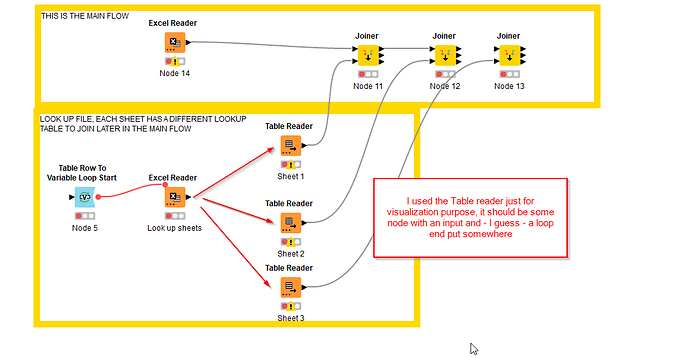 NB: the objective is not to concatenate the sheets, beacuse each sheet is different in content
Thank you!