Hi,
I currently have a difficult task, or to difficult for me.
I've got a table with every orderposition of some customers and some periods of time.
These are the basis of a new table, where I want to analyze the buying behaviour.
I've already grouped the necessary values, like number of customer online, number of customers total and so on.
But now I need to create a new table out of these whole aggegated values like this:
RowID | Specific Name | Period of Time | Number of Customers | Number … offline | Number … online | Amount of articles …
Is there a way to do this?
I've already tried sth. like that: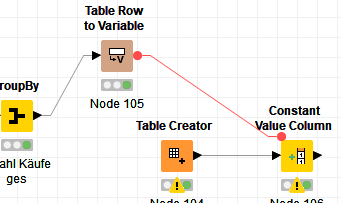 But the created table is always empty or every single row in the column gets the same value.
Thx