Hi Team,
We have recently created a GCP instance and installed KNIME Server as per the KNIME Server installation guide.
Server version installed: 4.13.1
Executor version: 4.4.1
When I try to configure the mount point in Preferences->KNIME Explorer of a KNIME 4.4.0 AP, I get the below error:
No REST endpoint found.
Please enter address top KNIME Webportal.
See the screenshot for details.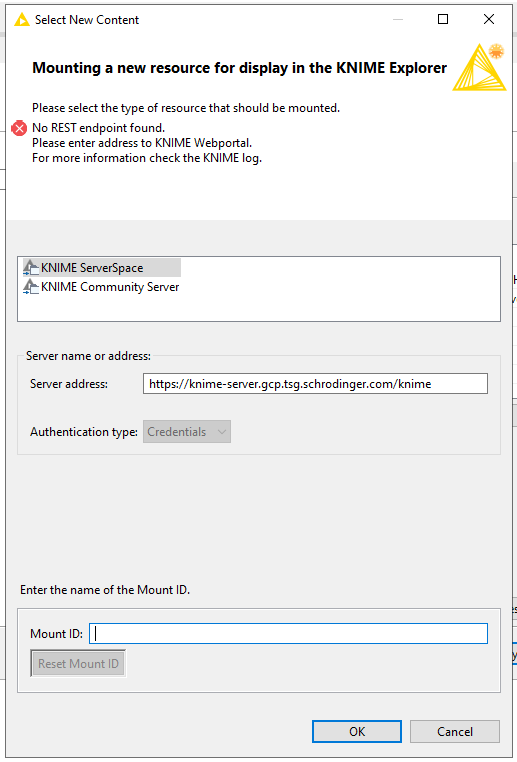 From the same host as KNIME AP is running, I could connect to the webportal from browser.
Below are the errors in KNIME AP console:
ERROR ServerAdditionalInformationPanel            Could not connect to server at https://knime-server.gcp.tsg.schrodinger.com/knime: please check the following errors
ERROR ServerAdditionalInformationPanel            Failed attempted connection to https://knime-server.gcp.tsg.schrodinger.com/knime: javax.net.ssl.SSLHandshakeException: SSLHandshakeException invoking https://knime-server.gcp.tsg.schrodinger.com/knime: PKIX path validation failed: java.security.cert.CertPathValidatorException: validity check failed
ERROR ServerAdditionalInformationPanel            Failed attempted connection to https://knime-server.gcp.tsg.schrodinger.com/knime/rest: javax.net.ssl.SSLHandshakeException: SSLHandshakeException invoking https://knime-server.gcp.tsg.schrodinger.com/knime/rest: PKIX path validation failed: java.security.cert.CertPathValidatorException: validity check failed
ERROR ServerAdditionalInformationPanel            Failed attempted connection to https://knime-server.gcp.tsg.schrodinger.com/knime/knime/rest: javax.net.ssl.SSLHandshakeException: SSLHandshakeException invoking https://knime-server.gcp.tsg.schrodinger.com/knime/knime/rest: PKIX path validation failed: java.security.cert.CertPathValidatorException: validity check failed
ERROR ServerAdditionalInformationPanel            Failed attempted connection to https://knime-server.gcp.tsg.schrodinger.com/knime/knime/rest/v4: javax.net.ssl.SSLHandshakeException: SSLHandshakeException invoking https://knime-server.gcp.tsg.schrodinger.com/knime/knime/rest/v4: PKIX path validation failed: java.security.cert.CertPathValidatorException: validity check failed