There are two options for binding a flow variable to a configuration parameter. The convenient one, available for some of the nodes like enables to bind a variable using a button next to the particular input field as you can see here:

You can't confirm the dialog until you enter a pattern unless you use the button just right to the input field. If you do so and you if you choose a flow variable holding the pattern, you're not supposed to provide a pattern itself anymore.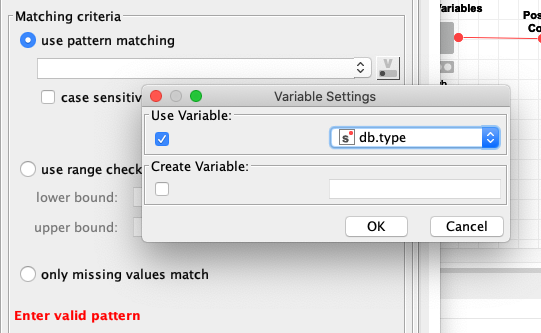 The second & less convenient way is to use the Flow Variables tab in the Node Configuration dialog and choose a Flow Variable there. But in this case, although KNIME is aware the parameter is controlled by a variable, it insists the input field must not leave empty.
The solution is to provide a dummy value for the particular mandatory configuration parameter but it's a bit annoying.
It'd be great if KNIME stopped insisting on providing a value for a configuration parameter controlled by variable.