Hello everyone,
I have a problem with java/sql/SQLException when trying to develop a new node.
It's something I really need as I try to develop a node that connects to a database.
Thank you in advance to anyone who can help me

– Context:
I'm trying to develop a new node to replace 'Database Reader'. The reason is that I can't rely on the identifiers given by the JDBC connector when requesting more than 5000 lines (it goes to 5000 and back to 0, which raises a duplicate ID error). And I cannot use 'Database Table Selector' because the database doesn't support subqueries. Using CSV files would also be problematic as there are over 100 tables and we'd like to keep the ETL process simple.
– Solution considered:
I'm trying to develop a new node that would take a DatabaseConnectionPortObject as input (from Database Connector, is that the correct type?). The dialog would allow the user to write an SQL query. The execute method would connect to the database using the input port, send the desired SQL query to the database and write the result in a BufferedDataTable on the output port.
– Problem:
Of all the problems I face (first time writing a knime extension and long time since I used Java), the one I can't get rid of is:
ERROR main KNIMECorePlugin Error while starting workbench, some setting may not have been applied properly: java/sql/SQLException
– Configuration:
OS : OS X 10.13.3 (macOS High Sierra)
Eclipse: Oxygen.3a Release (4.7.3a)
Knime: 3.5.3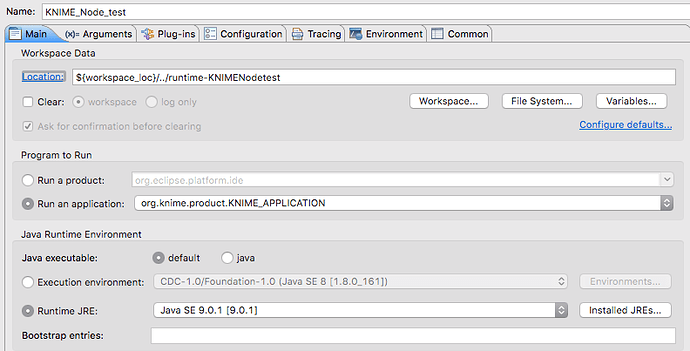 The full stack from the console when launching the project:
Summary

Java HotSpot™ 64-Bit Server VM warning: Ignoring option MaxPermSize; support was removed in 8.0
WARNING: Using incubator modules: jdk.incubator.httpclient
WARNING: An illegal reflective access operation has occurred
WARNING: Illegal reflective access by org.eclipse.osgi.storage.FrameworkExtensionInstaller (file:/Users/VPX1/Documents/Workspaces/.metadata/.plugins/org.eclipse.pde.core/.bundle_pool/plugins/org.eclipse.osgi_3.11.1.v20160708-1632.jar) to method java.net.URLClassLoader.addURL(java.net.URL)
WARNING: Please consider reporting this to the maintainers of org.eclipse.osgi.storage.FrameworkExtensionInstaller
WARNING: Use --illegal-access=warn to enable warnings of further illegal reflective access operations
WARNING: All illegal access operations will be denied in a future release
!SESSION 2018-04-18 12:51:18.222 -----------------------------------------------
eclipse.buildId=unknown
java.version=9.0.1
java.vendor=Oracle Corporation
BootLoader constants: OS=macosx, ARCH=x86_64, WS=cocoa, NL=fr_CH
Framework arguments: -application org.knime.product.KNIME_APPLICATION
Command-line arguments: -application org.knime.product.KNIME_APPLICATION -data /Users/VPX1/Documents/Workspaces/…/runtime-KNIMENodetest -dev file:/Users/VPX1/Documents/Workspaces/.metadata/.plugins/org.eclipse.pde.core/KNIME_Node_test/dev.properties -os macosx -ws cocoa -arch x86_64 -consoleLog

!ENTRY org.eclipse.ui 2 0 2018-04-18 12:51:21.529
!MESSAGE Warnings while parsing the key bindings from the 'org.eclipse.ui.commands' and 'org.eclipse.ui.bindings' extension point
!SUBENTRY 1 org.eclipse.ui 2 0 2018-04-18 12:51:21.530
!MESSAGE Cannot bind to an undefined command: plug-in='org.knime.workbench.editor', id='knime.commands.editor.gridSettings'

!ENTRY org.eclipse.e4.ui.workbench 4 0 2018-04-18 12:51:21.738
!MESSAGE Unable to retrieve the bundle from the URI: bundleclass://org.eclipse.recommenders.news.rcp/org.eclipse.recommenders.internal.news.rcp.poll.PollNewsFeedsHandler

!ENTRY org.eclipse.e4.ui.workbench 4 0 2018-04-18 12:51:21.739
!MESSAGE Unable to retrieve the bundle from the URI: bundleclass://org.eclipse.recommenders.news.rcp/org.eclipse.recommenders.internal.news.rcp.read.ReadNewsItemsHandler

!ENTRY org.eclipse.equinox.preferences 4 2 2018-04-18 12:51:23.781
!MESSAGE Problems occurred when invoking code from plug-in: "org.eclipse.equinox.preferences".
!STACK 0
java.lang.NoClassDefFoundError: java/sql/SQLException
at org.knime.workbench.core.preferences.HeadlessPreferencesInitializer.initializeDefaultPreferences(HeadlessPreferencesInitializer.java:86)
at org.eclipse.core.internal.preferences.PreferenceServiceRegistryHelper$1.run(PreferenceServiceRegistryHelper.java:298)
at org.eclipse.core.runtime.SafeRunner.run(SafeRunner.java:42)
at org.eclipse.core.internal.preferences.PreferenceServiceRegistryHelper.runInitializer(PreferenceServiceRegistryHelper.java:301)
at org.eclipse.core.internal.preferences.PreferenceServiceRegistryHelper.applyRuntimeDefaults(PreferenceServiceRegistryHelper.java:131)
at org.eclipse.core.internal.preferences.PreferencesService.applyRuntimeDefaults(PreferencesService.java:370)
at org.eclipse.core.internal.preferences.DefaultPreferences.applyRuntimeDefaults(DefaultPreferences.java:222)
at org.eclipse.core.internal.preferences.DefaultPreferences.load(DefaultPreferences.java:276)
at org.eclipse.core.internal.preferences.EclipsePreferences.create(EclipsePreferences.java:370)
at org.eclipse.core.internal.preferences.EclipsePreferences.internalNode(EclipsePreferences.java:623)
at org.eclipse.core.internal.preferences.EclipsePreferences.node(EclipsePreferences.java:766)
at org.eclipse.core.internal.preferences.AbstractScope.getNode(AbstractScope.java:38)
at org.eclipse.core.runtime.preferences.DefaultScope.getNode(DefaultScope.java:74)
at org.eclipse.ui.preferences.ScopedPreferenceStore.getDefaultPreferences(ScopedPreferenceStore.java:237)
at org.eclipse.ui.preferences.ScopedPreferenceStore.getPreferenceNodes(ScopedPreferenceStore.java:268)
at org.eclipse.ui.preferences.ScopedPreferenceStore.internalGet(ScopedPreferenceStore.java:418)
at org.eclipse.ui.preferences.ScopedPreferenceStore.getInt(ScopedPreferenceStore.java:436)
at org.knime.workbench.core.KNIMECorePlugin.initMaxThreadCountProperty(KNIMECorePlugin.java:288)
at org.knime.workbench.core.KNIMECorePlugin.start(KNIMECorePlugin.java:138)
at org.eclipse.osgi.internal.framework.BundleContextImpl$3.run(BundleContextImpl.java:774)
at org.eclipse.osgi.internal.framework.BundleContextImpl$3.run(BundleContextImpl.java:1)
at java.base/java.security.AccessController.doPrivileged(Native Method)
at org.eclipse.osgi.internal.framework.BundleContextImpl.startActivator(BundleContextImpl.java:767)
at org.eclipse.osgi.internal.framework.BundleContextImpl.start(BundleContextImpl.java:724)
at org.eclipse.osgi.internal.framework.EquinoxBundle.startWorker0(EquinoxBundle.java:932)
at org.eclipse.osgi.internal.framework.EquinoxBundle$EquinoxModule.startWorker(EquinoxBundle.java:309)
at org.eclipse.osgi.container.Module.doStart(Module.java:581)
at org.eclipse.osgi.container.Module.start(Module.java:449)
at org.eclipse.osgi.framework.util.SecureAction.start(SecureAction.java:470)
at org.eclipse.osgi.internal.hooks.EclipseLazyStarter.postFindLocalClass(EclipseLazyStarter.java:107)
at org.eclipse.osgi.internal.loader.classpath.ClasspathManager.findLocalClass(ClasspathManager.java:529)
at org.eclipse.osgi.internal.loader.ModuleClassLoader.findLocalClass(ModuleClassLoader.java:325)
at org.eclipse.osgi.internal.loader.BundleLoader.findLocalClass(BundleLoader.java:345)
at org.eclipse.osgi.internal.loader.sources.SingleSourcePackage.loadClass(SingleSourcePackage.java:36)
at org.eclipse.osgi.internal.loader.BundleLoader.findClassInternal(BundleLoader.java:419)
at org.eclipse.osgi.internal.loader.BundleLoader.findClass(BundleLoader.java:372)
at org.eclipse.osgi.internal.loader.BundleLoader.findClass(BundleLoader.java:364)
at org.eclipse.osgi.internal.loader.ModuleClassLoader.loadClass(ModuleClassLoader.java:161)
at java.base/java.lang.ClassLoader.loadClass(ClassLoader.java:496)
at java.base/java.lang.Class.getDeclaredConstructors0(Native Method)
at java.base/java.lang.Class.privateGetDeclaredConstructors(Class.java:3110)
at java.base/java.lang.Class.getConstructor0(Class.java:3315)
at java.base/java.lang.Class.newInstance(Class.java:530)
at org.eclipse.osgi.internal.framework.BundleContextImpl.loadBundleActivator(BundleContextImpl.java:758)
at org.eclipse.osgi.internal.framework.BundleContextImpl.start(BundleContextImpl.java:711)
at org.eclipse.osgi.internal.framework.EquinoxBundle.startWorker0(EquinoxBundle.java:932)
at org.eclipse.osgi.internal.framework.EquinoxBundle$EquinoxModule.startWorker(EquinoxBundle.java:309)
at org.eclipse.osgi.container.Module.doStart(Module.java:581)
at org.eclipse.osgi.container.Module.start(Module.java:449)
at org.eclipse.osgi.framework.util.SecureAction.start(SecureAction.java:470)
at org.eclipse.osgi.internal.hooks.EclipseLazyStarter.postFindLocalClass(EclipseLazyStarter.java:107)
at org.eclipse.osgi.internal.loader.classpath.ClasspathManager.findLocalClass(ClasspathManager.java:529)
at org.eclipse.osgi.internal.loader.ModuleClassLoader.findLocalClass(ModuleClassLoader.java:325)
at org.eclipse.osgi.internal.loader.BundleLoader.findLocalClass(BundleLoader.java:345)
at org.eclipse.osgi.internal.loader.sources.SingleSourcePackage.loadClass(SingleSourcePackage.java:36)
at org.eclipse.osgi.internal.loader.BundleLoader.findClassInternal(BundleLoader.java:419)
at org.eclipse.osgi.internal.loader.BundleLoader.findClass(BundleLoader.java:372)
at org.eclipse.osgi.internal.loader.BundleLoader.findClass(BundleLoader.java:364)
at org.eclipse.osgi.internal.loader.ModuleClassLoader.loadClass(ModuleClassLoader.java:161)
at java.base/java.lang.ClassLoader.loadClass(ClassLoader.java:496)
at org.knime.product.rcp.KNIMEApplicationActionBarAdvisor.makeActions(KNIMEApplicationActionBarAdvisor.java:208)
at org.eclipse.ui.application.ActionBarAdvisor.fillActionBars(ActionBarAdvisor.java:149)
at org.knime.product.rcp.KNIMEApplicationActionBarAdvisor.fillActionBars(KNIMEApplicationActionBarAdvisor.java:487)
at org.eclipse.ui.internal.WorkbenchWindow.fillActionBars(WorkbenchWindow.java:2583)
at org.eclipse.ui.internal.WorkbenchWindow.setup(WorkbenchWindow.java:667)
at java.base/jdk.internal.reflect.NativeMethodAccessorImpl.invoke0(Native Method)
at java.base/jdk.internal.reflect.NativeMethodAccessorImpl.invoke(NativeMethodAccessorImpl.java:62)
at java.base/jdk.internal.reflect.DelegatingMethodAccessorImpl.invoke(DelegatingMethodAccessorImpl.java:43)
at java.base/java.lang.reflect.Method.invoke(Method.java:564)
at org.eclipse.e4.core.internal.di.MethodRequestor.execute(MethodRequestor.java:55)
at org.eclipse.e4.core.internal.di.InjectorImpl.processAnnotated(InjectorImpl.java:966)
at org.eclipse.e4.core.internal.di.InjectorImpl.inject(InjectorImpl.java:151)
at org.eclipse.e4.core.internal.di.InjectorImpl.inject(InjectorImpl.java:118)
at org.eclipse.e4.core.contexts.ContextInjectionFactory.inject(ContextInjectionFactory.java:73)
at org.eclipse.ui.internal.Workbench.createWorkbenchWindow(Workbench.java:1525)
at org.eclipse.ui.internal.Workbench.openWorkbenchWindow(Workbench.java:2653)
at org.eclipse.ui.internal.Workbench.getWorkbenchPage(Workbench.java:2083)
at org.eclipse.ui.internal.Workbench.setReference(Workbench.java:2131)
at org.eclipse.ui.internal.Workbench.access$28(Workbench.java:2099)
at org.eclipse.ui.internal.Workbench$35.handleEvent(Workbench.java:2021)
at org.eclipse.e4.ui.services.internal.events.UIEventHandler$1.run(UIEventHandler.java:40)
at org.eclipse.swt.widgets.Synchronizer.syncExec(Synchronizer.java:233)
at org.eclipse.ui.internal.UISynchronizer.syncExec(UISynchronizer.java:145)
at org.eclipse.swt.widgets.Display.syncExec(Display.java:4806)
at org.eclipse.e4.ui.internal.workbench.swt.E4Application$1.syncExec(E4Application.java:211)
at org.eclipse.e4.ui.services.internal.events.UIEventHandler.handleEvent(UIEventHandler.java:36)
at org.eclipse.equinox.internal.event.EventHandlerWrapper.handleEvent(EventHandlerWrapper.java:201)
at org.eclipse.equinox.internal.event.EventHandlerTracker.dispatchEvent(EventHandlerTracker.java:197)
at org.eclipse.equinox.internal.event.EventHandlerTracker.dispatchEvent(EventHandlerTracker.java:1)
at org.eclipse.osgi.framework.eventmgr.EventManager.dispatchEvent(EventManager.java:230)
at org.eclipse.osgi.framework.eventmgr.ListenerQueue.dispatchEventSynchronous(ListenerQueue.java:148)
at org.eclipse.equinox.internal.event.EventAdminImpl.dispatchEvent(EventAdminImpl.java:135)
at org.eclipse.equinox.internal.event.EventAdminImpl.sendEvent(EventAdminImpl.java:78)
at org.eclipse.equinox.internal.event.EventComponent.sendEvent(EventComponent.java:39)
at org.eclipse.e4.ui.services.internal.events.EventBroker.send(EventBroker.java:94)
at org.eclipse.e4.ui.internal.workbench.UIEventPublisher.notifyChanged(UIEventPublisher.java:60)
at org.eclipse.emf.common.notify.impl.BasicNotifierImpl.eNotify(BasicNotifierImpl.java:374)
at org.eclipse.e4.ui.model.application.ui.basic.impl.PartImpl.setContext(PartImpl.java:431)
at org.eclipse.e4.ui.internal.workbench.swt.PartRenderingEngine.safeCreateGui(PartRenderingEngine.java:626)
at org.eclipse.e4.ui.internal.workbench.swt.PartRenderingEngine$1.run(PartRenderingEngine.java:536)
at org.eclipse.core.runtime.SafeRunner.run(SafeRunner.java:42)
at org.eclipse.e4.ui.internal.workbench.swt.PartRenderingEngine.createGui(PartRenderingEngine.java:520)
at org.eclipse.e4.ui.workbench.renderers.swt.ElementReferenceRenderer.createWidget(ElementReferenceRenderer.java:70)
at org.eclipse.e4.ui.internal.workbench.swt.PartRenderingEngine.createWidget(PartRenderingEngine.java:975)
at org.eclipse.e4.ui.internal.workbench.swt.PartRenderingEngine.safeCreateGui(PartRenderingEngine.java:651)
at org.eclipse.e4.ui.internal.workbench.swt.PartRenderingEngine.safeCreateGui(PartRenderingEngine.java:757)
at org.eclipse.e4.ui.internal.workbench.swt.PartRenderingEngine.access$0(PartRenderingEngine.java:728)
at org.eclipse.e4.ui.internal.workbench.swt.PartRenderingEngine$2.run(PartRenderingEngine.java:722)
at org.eclipse.core.runtime.SafeRunner.run(SafeRunner.java:42)
at org.eclipse.e4.ui.internal.workbench.swt.PartRenderingEngine.createGui(PartRenderingEngine.java:706)
at org.eclipse.e4.ui.workbench.renderers.swt.StackRenderer.showTab(StackRenderer.java:1317)
at org.eclipse.e4.ui.workbench.renderers.swt.LazyStackRenderer.postProcess(LazyStackRenderer.java:103)
at org.eclipse.e4.ui.internal.workbench.swt.PartRenderingEngine.safeCreateGui(PartRenderingEngine.java:669)
at org.eclipse.e4.ui.internal.workbench.swt.PartRenderingEngine.safeCreateGui(PartRenderingEngine.java:757)
at org.eclipse.e4.ui.internal.workbench.swt.PartRenderingEngine.access$0(PartRenderingEngine.java:728)
at org.eclipse.e4.ui.internal.workbench.swt.PartRenderingEngine$2.run(PartRenderingEngine.java:722)
at org.eclipse.core.runtime.SafeRunner.run(SafeRunner.java:42)
at org.eclipse.e4.ui.internal.workbench.swt.PartRenderingEngine.createGui(PartRenderingEngine.java:706)
at org.eclipse.e4.ui.workbench.renderers.swt.SWTPartRenderer.processContents(SWTPartRenderer.java:70)
at org.eclipse.e4.ui.workbench.renderers.swt.SashRenderer.processContents(SashRenderer.java:142)
at org.eclipse.e4.ui.internal.workbench.swt.PartRenderingEngine.safeCreateGui(PartRenderingEngine.java:665)
at org.eclipse.e4.ui.internal.workbench.swt.PartRenderingEngine.safeCreateGui(PartRenderingEngine.java:757)
at org.eclipse.e4.ui.internal.workbench.swt.PartRenderingEngine.access$0(PartRenderingEngine.java:728)
at org.eclipse.e4.ui.internal.workbench.swt.PartRenderingEngine$2.run(PartRenderingEngine.java:722)
at org.eclipse.core.runtime.SafeRunner.run(SafeRunner.java:42)
at org.eclipse.e4.ui.internal.workbench.swt.PartRenderingEngine.createGui(PartRenderingEngine.java:706)
at org.eclipse.e4.ui.workbench.renderers.swt.SWTPartRenderer.processContents(SWTPartRenderer.java:70)
at org.eclipse.e4.ui.workbench.renderers.swt.SashRenderer.processContents(SashRenderer.java:142)
at org.eclipse.e4.ui.internal.workbench.swt.PartRenderingEngine.safeCreateGui(PartRenderingEngine.java:665)
at org.eclipse.e4.ui.internal.workbench.swt.PartRenderingEngine.safeCreateGui(PartRenderingEngine.java:757)
at org.eclipse.e4.ui.internal.workbench.swt.PartRenderingEngine.access$0(PartRenderingEngine.java:728)
at org.eclipse.e4.ui.internal.workbench.swt.PartRenderingEngine$2.run(PartRenderingEngine.java:722)
at org.eclipse.core.runtime.SafeRunner.run(SafeRunner.java:42)
at org.eclipse.e4.ui.internal.workbench.swt.PartRenderingEngine.createGui(PartRenderingEngine.java:706)
at org.eclipse.e4.ui.workbench.renderers.swt.SWTPartRenderer.processContents(SWTPartRenderer.java:70)
at org.eclipse.e4.ui.workbench.renderers.swt.SashRenderer.processContents(SashRenderer.java:142)
at org.eclipse.e4.ui.internal.workbench.swt.PartRenderingEngine.safeCreateGui(PartRenderingEngine.java:665)
at org.eclipse.e4.ui.internal.workbench.swt.PartRenderingEngine.safeCreateGui(PartRenderingEngine.java:757)
at org.eclipse.e4.ui.internal.workbench.swt.PartRenderingEngine.access$0(PartRenderingEngine.java:728)
at org.eclipse.e4.ui.internal.workbench.swt.PartRenderingEngine$2.run(PartRenderingEngine.java:722)
at org.eclipse.core.runtime.SafeRunner.run(SafeRunner.java:42)
at org.eclipse.e4.ui.internal.workbench.swt.PartRenderingEngine.createGui(PartRenderingEngine.java:706)
at org.eclipse.e4.ui.workbench.renderers.swt.SWTPartRenderer.processContents(SWTPartRenderer.java:70)
at org.eclipse.e4.ui.workbench.renderers.swt.PerspectiveRenderer.processContents(PerspectiveRenderer.java:49)
at org.eclipse.e4.ui.internal.workbench.swt.PartRenderingEngine.safeCreateGui(PartRenderingEngine.java:665)
at org.eclipse.e4.ui.internal.workbench.swt.PartRenderingEngine.safeCreateGui(PartRenderingEngine.java:757)
at org.eclipse.e4.ui.internal.workbench.swt.PartRenderingEngine.access$0(PartRenderingEngine.java:728)
at org.eclipse.e4.ui.internal.workbench.swt.PartRenderingEngine$2.run(PartRenderingEngine.java:722)
at org.eclipse.core.runtime.SafeRunner.run(SafeRunner.java:42)
at org.eclipse.e4.ui.internal.workbench.swt.PartRenderingEngine.createGui(PartRenderingEngine.java:706)
at org.eclipse.e4.ui.workbench.renderers.swt.PerspectiveStackRenderer.showTab(PerspectiveStackRenderer.java:82)
at org.eclipse.e4.ui.workbench.renderers.swt.LazyStackRenderer.postProcess(LazyStackRenderer.java:103)
at org.eclipse.e4.ui.workbench.renderers.swt.PerspectiveStackRenderer.postProcess(PerspectiveStackRenderer.java:63)
at org.eclipse.e4.ui.internal.workbench.swt.PartRenderingEngine.safeCreateGui(PartRenderingEngine.java:669)
at org.eclipse.e4.ui.internal.workbench.swt.PartRenderingEngine.safeCreateGui(PartRenderingEngine.java:757)
at org.eclipse.e4.ui.internal.workbench.swt.PartRenderingEngine.access$0(PartRenderingEngine.java:728)
at org.eclipse.e4.ui.internal.workbench.swt.PartRenderingEngine$2.run(PartRenderingEngine.java:722)
at org.eclipse.core.runtime.SafeRunner.run(SafeRunner.java:42)
at org.eclipse.e4.ui.internal.workbench.swt.PartRenderingEngine.createGui(PartRenderingEngine.java:706)
at org.eclipse.e4.ui.workbench.renderers.swt.SWTPartRenderer.processContents(SWTPartRenderer.java:70)
at org.eclipse.e4.ui.workbench.renderers.swt.SashRenderer.processContents(SashRenderer.java:142)
at org.eclipse.e4.ui.internal.workbench.swt.PartRenderingEngine.safeCreateGui(PartRenderingEngine.java:665)
at org.eclipse.e4.ui.internal.workbench.swt.PartRenderingEngine.safeCreateGui(PartRenderingEngine.java:757)
at org.eclipse.e4.ui.internal.workbench.swt.PartRenderingEngine.access$0(PartRenderingEngine.java:728)
at org.eclipse.e4.ui.internal.workbench.swt.PartRenderingEngine$2.run(PartRenderingEngine.java:722)
at org.eclipse.core.runtime.SafeRunner.run(SafeRunner.java:42)
at org.eclipse.e4.ui.internal.workbench.swt.PartRenderingEngine.createGui(PartRenderingEngine.java:706)
at org.eclipse.e4.ui.workbench.renderers.swt.SWTPartRenderer.processContents(SWTPartRenderer.java:70)
at org.eclipse.e4.ui.workbench.renderers.swt.WBWRenderer.processContents(WBWRenderer.java:725)
at org.eclipse.e4.ui.internal.workbench.swt.PartRenderingEngine.safeCreateGui(PartRenderingEngine.java:665)
at org.eclipse.e4.ui.internal.workbench.swt.PartRenderingEngine.safeCreateGui(PartRenderingEngine.java:757)
at org.eclipse.e4.ui.internal.workbench.swt.PartRenderingEngine.access$0(PartRenderingEngine.java:728)
at org.eclipse.e4.ui.internal.workbench.swt.PartRenderingEngine$2.run(PartRenderingEngine.java:722)
at org.eclipse.core.runtime.SafeRunner.run(SafeRunner.java:42)
at org.eclipse.e4.ui.internal.workbench.swt.PartRenderingEngine.createGui(PartRenderingEngine.java:706)
at org.eclipse.e4.ui.internal.workbench.swt.PartRenderingEngine$4.run(PartRenderingEngine.java:1059)
at org.eclipse.core.databinding.observable.Realm.runWithDefault(Realm.java:336)
at org.eclipse.e4.ui.internal.workbench.swt.PartRenderingEngine.run(PartRenderingEngine.java:1022)
at org.eclipse.e4.ui.internal.workbench.E4Workbench.createAndRunUI(E4Workbench.java:150)
at org.eclipse.ui.internal.Workbench$5.run(Workbench.java:687)
at org.eclipse.core.databinding.observable.Realm.runWithDefault(Realm.java:336)
at org.eclipse.ui.internal.Workbench.createAndRunWorkbench(Workbench.java:604)
at org.eclipse.ui.PlatformUI.createAndRunWorkbench(PlatformUI.java:148)
at org.knime.product.rcp.KNIMEApplication.start(KNIMEApplication.java:141)
at org.eclipse.equinox.internal.app.EclipseAppHandle.run(EclipseAppHandle.java:196)
at org.eclipse.core.runtime.internal.adaptor.EclipseAppLauncher.runApplication(EclipseAppLauncher.java:134)
at org.eclipse.core.runtime.internal.adaptor.EclipseAppLauncher.start(EclipseAppLauncher.java:104)
at org.eclipse.core.runtime.adaptor.EclipseStarter.run(EclipseStarter.java:388)
at org.eclipse.core.runtime.adaptor.EclipseStarter.run(EclipseStarter.java:243)
at java.base/jdk.internal.reflect.NativeMethodAccessorImpl.invoke0(Native Method)
at java.base/jdk.internal.reflect.NativeMethodAccessorImpl.invoke(NativeMethodAccessorImpl.java:62)
at java.base/jdk.internal.reflect.DelegatingMethodAccessorImpl.invoke(DelegatingMethodAccessorImpl.java:43)
at java.base/java.lang.reflect.Method.invoke(Method.java:564)
at org.eclipse.equinox.launcher.Main.invokeFramework(Main.java:673)
at org.eclipse.equinox.launcher.Main.basicRun(Main.java:610)
at org.eclipse.equinox.launcher.Main.run(Main.java:1519)
at org.eclipse.equinox.launcher.Main.main(Main.java:1492)
Caused by: java.lang.ClassNotFoundException: java.sql.SQLException
at java.base/java.lang.ClassLoader.findClass(ClassLoader.java:709)
at java.base/java.lang.ClassLoader.loadClass(ClassLoader.java:563)
at java.base/java.lang.ClassLoader.loadClass(ClassLoader.java:496)
at org.eclipse.osgi.internal.loader.BundleLoader.findClass(BundleLoader.java:371)
at org.eclipse.osgi.internal.loader.BundleLoader.findClass(BundleLoader.java:364)
at org.eclipse.osgi.internal.loader.ModuleClassLoader.loadClass(ModuleClassLoader.java:161)
at java.base/java.lang.ClassLoader.loadClass(ClassLoader.java:496)
… 197 more
ERROR main KNIMECorePlugin Error while starting workbench, some setting may not have been applied properly: java/sql/SQLException
ERROR ModalContext Node Loading model settings failed: String for key "SQLQuery" not found.
ERROR ModalContext LoadWorkflowRunnable Errors during load: Status: Error: KNIME_project 0 loaded with errors
ERROR ModalContext LoadWorkflowRunnable Status: Error: KNIME_project 0
ERROR ModalContext LoadWorkflowRunnable Status: Error: FileMakerReader 0:1
ERROR ModalContext LoadWorkflowRunnable Status: Error: Loading model settings failed: String for key "SQLQuery" not found.

!ENTRY org.eclipse.e4.ui.workbench 4 0 2018-04-18 12:51:28.213
!MESSAGE Unable to create class 'org.eclipse.ui.internal.intro.impl.presentations.IntroLaunchBar' from bundle '821'
!STACK 0
org.eclipse.e4.core.di.InjectionException: java.lang.NullPointerException
at org.eclipse.e4.core.internal.di.MethodRequestor.execute(MethodRequestor.java:65)
at org.eclipse.e4.core.internal.di.InjectorImpl.processAnnotated(InjectorImpl.java:966)
at org.eclipse.e4.core.internal.di.InjectorImpl.inject(InjectorImpl.java:151)
at org.eclipse.e4.core.internal.di.InjectorImpl.internalMake(InjectorImpl.java:375)
at org.eclipse.e4.core.internal.di.InjectorImpl.make(InjectorImpl.java:308)
at org.eclipse.e4.core.contexts.ContextInjectionFactory.make(ContextInjectionFactory.java:186)
at org.eclipse.e4.ui.internal.workbench.ReflectionContributionFactory.createFromBundle(ReflectionContributionFactory.java:108)
at org.eclipse.e4.ui.internal.workbench.ReflectionContributionFactory.doCreate(ReflectionContributionFactory.java:74)
at org.eclipse.e4.ui.internal.workbench.ReflectionContributionFactory.create(ReflectionContributionFactory.java:51)
at org.eclipse.e4.ui.workbench.renderers.swt.ToolControlRenderer.createWidget(ToolControlRenderer.java:108)
at org.eclipse.e4.ui.internal.workbench.swt.PartRenderingEngine.createWidget(PartRenderingEngine.java:975)
at org.eclipse.e4.ui.internal.workbench.swt.PartRenderingEngine.safeCreateGui(PartRenderingEngine.java:651)
at org.eclipse.e4.ui.internal.workbench.swt.PartRenderingEngine.safeCreateGui(PartRenderingEngine.java:757)
at org.eclipse.e4.ui.internal.workbench.swt.PartRenderingEngine.access$0(PartRenderingEngine.java:728)
at org.eclipse.e4.ui.internal.workbench.swt.PartRenderingEngine$2.run(PartRenderingEngine.java:722)
at org.eclipse.core.runtime.SafeRunner.run(SafeRunner.java:42)
at org.eclipse.e4.ui.internal.workbench.swt.PartRenderingEngine.createGui(PartRenderingEngine.java:706)
at org.eclipse.e4.ui.workbench.renderers.swt.SWTPartRenderer.processContents(SWTPartRenderer.java:70)
at org.eclipse.e4.ui.workbench.renderers.swt.TrimBarRenderer.processContents(TrimBarRenderer.java:134)
at org.eclipse.e4.ui.internal.workbench.swt.PartRenderingEngine.safeCreateGui(PartRenderingEngine.java:665)
at org.eclipse.e4.ui.internal.workbench.swt.PartRenderingEngine$1.run(PartRenderingEngine.java:536)
at org.eclipse.core.runtime.SafeRunner.run(SafeRunner.java:42)
at org.eclipse.e4.ui.internal.workbench.swt.PartRenderingEngine.createGui(PartRenderingEngine.java:520)
at org.eclipse.e4.ui.workbench.renderers.swt.WBWRenderer.processContents(WBWRenderer.java:747)
at org.eclipse.e4.ui.internal.workbench.swt.PartRenderingEngine.safeCreateGui(PartRenderingEngine.java:665)
at org.eclipse.e4.ui.internal.workbench.swt.PartRenderingEngine.safeCreateGui(PartRenderingEngine.java:757)
at org.eclipse.e4.ui.internal.workbench.swt.PartRenderingEngine.access$0(PartRenderingEngine.java:728)
at org.eclipse.e4.ui.internal.workbench.swt.PartRenderingEngine$2.run(PartRenderingEngine.java:722)
at org.eclipse.core.runtime.SafeRunner.run(SafeRunner.java:42)
at org.eclipse.e4.ui.internal.workbench.swt.PartRenderingEngine.createGui(PartRenderingEngine.java:706)
at org.eclipse.e4.ui.internal.workbench.swt.PartRenderingEngine$4.run(PartRenderingEngine.java:1059)
at org.eclipse.core.databinding.observable.Realm.runWithDefault(Realm.java:336)
at org.eclipse.e4.ui.internal.workbench.swt.PartRenderingEngine.run(PartRenderingEngine.java:1022)
at org.eclipse.e4.ui.internal.workbench.E4Workbench.createAndRunUI(E4Workbench.java:150)
at org.eclipse.ui.internal.Workbench$5.run(Workbench.java:687)
at org.eclipse.core.databinding.observable.Realm.runWithDefault(Realm.java:336)
at org.eclipse.ui.internal.Workbench.createAndRunWorkbench(Workbench.java:604)
at org.eclipse.ui.PlatformUI.createAndRunWorkbench(PlatformUI.java:148)
at org.knime.product.rcp.KNIMEApplication.start(KNIMEApplication.java:141)
at org.eclipse.equinox.internal.app.EclipseAppHandle.run(EclipseAppHandle.java:196)
at org.eclipse.core.runtime.internal.adaptor.EclipseAppLauncher.runApplication(EclipseAppLauncher.java:134)
at org.eclipse.core.runtime.internal.adaptor.EclipseAppLauncher.start(EclipseAppLauncher.java:104)
at org.eclipse.core.runtime.adaptor.EclipseStarter.run(EclipseStarter.java:388)
at org.eclipse.core.runtime.adaptor.EclipseStarter.run(EclipseStarter.java:243)
at java.base/jdk.internal.reflect.NativeMethodAccessorImpl.invoke0(Native Method)
at java.base/jdk.internal.reflect.NativeMethodAccessorImpl.invoke(NativeMethodAccessorImpl.java:62)
at java.base/jdk.internal.reflect.DelegatingMethodAccessorImpl.invoke(DelegatingMethodAccessorImpl.java:43)
at java.base/java.lang.reflect.Method.invoke(Method.java:564)
at org.eclipse.equinox.launcher.Main.invokeFramework(Main.java:673)
at org.eclipse.equinox.launcher.Main.basicRun(Main.java:610)
at org.eclipse.equinox.launcher.Main.run(Main.java:1519)
at org.eclipse.equinox.launcher.Main.main(Main.java:1492)
Caused by: java.lang.NullPointerException
at org.eclipse.ui.internal.intro.impl.model.IntroModelRoot.loadTheme(IntroModelRoot.java:311)
at org.eclipse.ui.internal.intro.impl.model.IntroModelRoot.loadChildren(IntroModelRoot.java:192)
at org.eclipse.ui.internal.intro.impl.model.AbstractIntroContainer.getChildren(AbstractIntroContainer.java:78)
at org.eclipse.ui.internal.intro.impl.model.IntroModelRoot.loadModel(IntroModelRoot.java:164)
at org.eclipse.ui.internal.intro.impl.model.loader.BaseExtensionPointManager.loadModel(BaseExtensionPointManager.java:96)
at org.eclipse.ui.internal.intro.impl.model.loader.ExtensionPointManager.getModel(ExtensionPointManager.java:89)
at org.eclipse.ui.internal.intro.impl.presentations.IntroLaunchBar.init(IntroLaunchBar.java:259)
at java.base/jdk.internal.reflect.NativeMethodAccessorImpl.invoke0(Native Method)
at java.base/jdk.internal.reflect.NativeMethodAccessorImpl.invoke(NativeMethodAccessorImpl.java:62)
at java.base/jdk.internal.reflect.DelegatingMethodAccessorImpl.invoke(DelegatingMethodAccessorImpl.java:43)
at java.base/java.lang.reflect.Method.invoke(Method.java:564)
at org.eclipse.e4.core.internal.di.MethodRequestor.execute(MethodRequestor.java:55)
… 51 more

!ENTRY org.eclipse.e4.ui.workbench 4 0 2018-04-18 12:51:28.220
!MESSAGE Unable to retrieve the bundle from the URI: bundleclass://org.eclipse.recommenders.news.rcp/org.eclipse.recommenders.internal.news.rcp.toolbar.NewsToolControl

!ENTRY org.eclipse.core.net 1 0 2018-04-18 12:51:28.637
!MESSAGE System property http.nonProxyHosts has been set to local|.local|169.254/16|.169.254/16 by an external source. This value will be overwritten using the values from the preferences