Good day:
I have a very simple flow that has a Python Script node surrounded by a parallel chunk loop start and end as in the figure.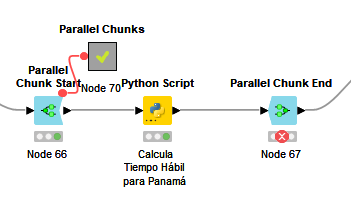 For sake of simplicity, the Python Script is just
output_table_1 = input_table_1.copy()
The process fails with error: "Execute failed: Runtime class of object "5.0" (index 69) in row "Row52348_?Row3_Row409_Row1141?" is Number (double) and does not comply with its supposed superclass Number (integer)"
As you know, Parallel Chunk Loop creates several equally defined Python Scripts and some of them returns column 69 as Number (integer) while others returns Number (double).
Any idea on how to solve this?
Thanks.