Hello KNIMErs,
I am trying to fetch the cookies of a website and then work with them, through the Python extension in KNIME.
If I execute the code inside the node, I get to see the cookie the way I want to, and there are no errors.
If I execute the node, trying to work with the output on a different node, I get the following error:
"Execute failed: Expected pandas.DataFrame, got <class 'request.cookies.RequestCookieJar'> Please make sure your output_table is a pandas.DataFrame."
So I investigated a bit deeper and it seems that for every Python node running, it is necessary to declare an "output table" ("output_table"), but not sure how to do so successfully.
Here's my small code
import requests
from pandas import DataFrame
import pandas as pd
response = requests.get('https://iaas.service-now.com')
print(response.cookies)
output_table = response.cookies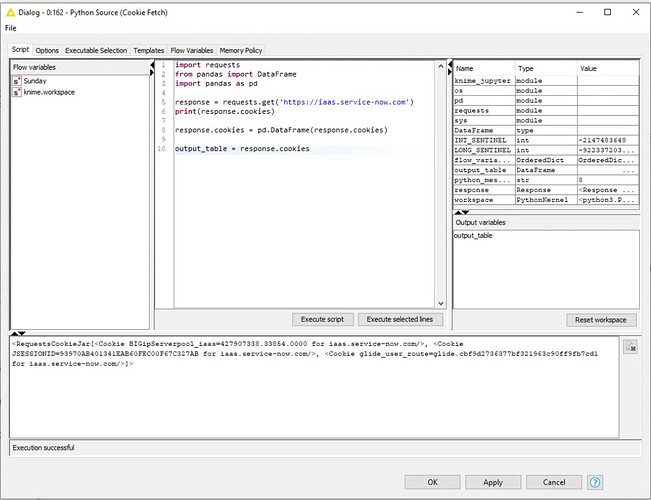 I've seen that some "= pd.DataFrame" code needs to be added somewhere before my "output_table" but not sure how to make it work.
Any ideas are truly appreciated.