Hey, checking if anyone has had an issue with downloading Excel (xlsx) files. The site I usually download from just added authentication, which means I can't use the Excel Reader node anymore. Now I'm trying to figure out how to download the file using my credentials. My latest attempt is using the HTTP(S) Connector node to pass in my credentials and the site URL, then using the Transfer Files node to move the file from the site to a local directory.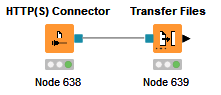 This seems to work fine, however, the file gets corrupted in transit. I can see that the file size is much smaller than it should be (below is a comparison to what a good file should look like).

Below is what I see when I try to open the downloaded file.
Has anyone else had trouble with this? Is there another way to go about getting this file?