Hello,
i have a problem, and i don't know how to solve it.
This is my source file(.xlsx).

And i must have the result in this form:


The source data is random, every raport have different lenght, different "Product ID", so i need to read everything from this file, i can't create dictionary. I have manage to pull rows ID where new product starts: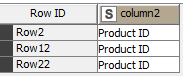 From here i don't know what to do. Becouse now i need to read everything from Row2 to Row12 , next from Row12 to Row22 e.t.c. I tried to use "Chunk Loop Start" and "Rows per chunk" set to 2, but that way i have rows 1-2, 3-4, 5-6, and i need 1-2, 2-3, 3-4.
Someone have any idea how to do this ?