I am looking for an elegant way to use the date/time a certain node was executed as a flow variable for further use.
In my example I want to catch the date on which "Database Reader" Node was executed, so that the date can be used at a later point eg. to automatically generate a file name. This only works, when both the database reader and database connector are reset before the workflow - or parts of it.- is restarted.
Currently I use the following combination of nodes: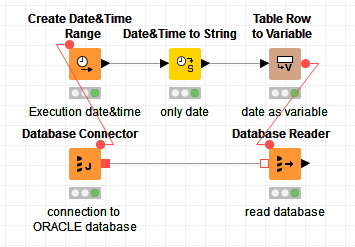 Is there any other way this can be accomplished in a more elegant manner?
This would be a nice feature to be added in future: providing the execution time of a node as a flow variable.
Regards from Vienna, Austria,
Erik