Hello KNIME Python community and friends

,
We are glad to announce that starting with the KNIME Analytics Platform 4.6 release you can develop KNIME nodes in pure Python!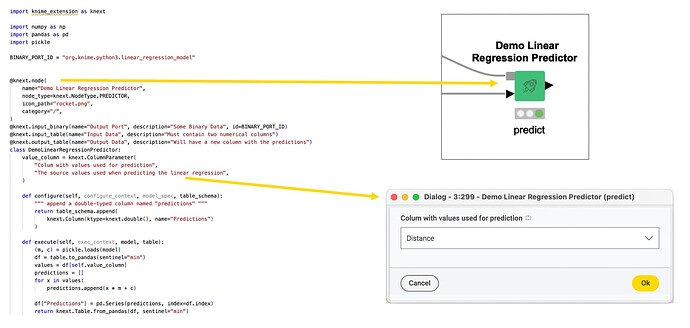 To get started, you just need to configure two small YAML files. Then you can develop KNIME Python node extensions in your favorite text editor or IDE, and even debug your code while your nodes are running in the KNIME Analytics Platform. See the documentation for details and a tutorial.
We are curious to hear your feedback and see what you will do with those new possibilities!
Features included in KNIME AP 4.6
Defining nodes in Python

configuring input and output ports (tables and binary ports for now)
defining node parameters with autogenerated dialogs
implementing node configuration and execution
defining views
accessing flow variables
reporting progress
setting warnings
use Python logging to write to the KNIME console

Defining node repository categories in Python
Bundling an extension into an update site that can be shared

packages the full conda environment, such that the nodes work out of the box when the extension is installed
Features that will be coming soon
Sharing Python extensions via the Hub
Defining PortTypes
Bundling of pip packages
…
Please let us know what you are missing most.
Documentation
Disclaimer
KNIME Python Extension Development (Labs) is considered a preview and is currently under development. The API may change in the future. It is not recommended to be used in a production environment.
Feedback
We are looking forward to receiving your feedback. Please reply here with any ideas, comments, or questions. If you run into any problems please follow the Bug Reporting Best Practices.