I am trying to integrate this Python script in KNIME:
It is an interactive python visualization of clusters using Bokeh library. In a regular environment, I execute it with a command line:
"bokeh serve -show clustering".
If I try to embed a Python Script with the code, I only get status "the python3Command is controlled by a variable".
However, if I am trying a much simpler code in Python Script node, like this, the visualization opens with no issues in an external browser:
from bokeh.plotting import figure, output_file, show

# Basic plotting
# prepare some data
x = [1, 2, 3, 4, 5]
y = [6, 7, 2, 4, 5]

# output to static HTML file
output_file("lines.html")

# create a new plot with a title and axis labels
p = figure(title="simple line example", x_axis_label='x', y_axis_label='y')

# add a line renderer with legend and line thickness
p.line(x, y, legend_label="Temp.", line_width=2)

# show the results
show(p)

…outputs: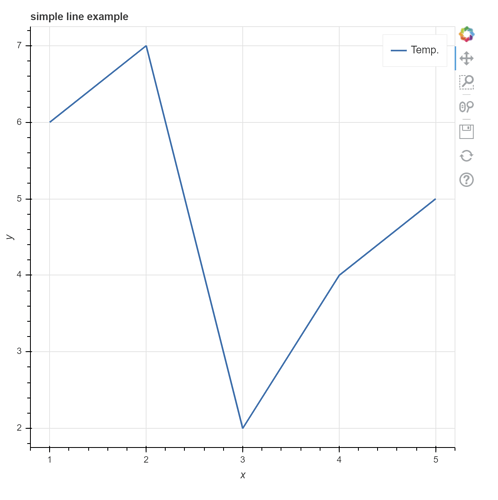 What is the best way to integrate a complex Python/Bokeh application into the KNIME flow?