Trying to read a special file format with a python lib that I've found. Seems to work so far, as the generated csv-file for debugging purpose seems correct.
Screenshot:


Here is my script:
import numpy as np
import pandas as pd
df = pd.DataFrame()

from nptdms import TdmsFile

tdms_file = TdmsFile.read("C:/temp/TC0551-v01.tdms")
for group in tdms_file.groups():
    group_name = group.name
    for channel in group.channels():
        df[channel] = channel[:].tolist()

#df.to_csv("C:/temp/df.csv")
output_table_1 = df

Yet the node does not work: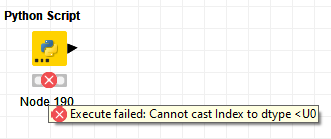 Any ideas?