Hi, I have a question about the 'Memory Policy' options used by each node as below.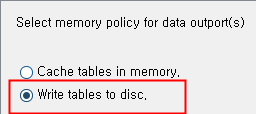 When executing a node, the default value of the memory policy option is 'Cache tables in memory'.
However, if this option is used, it is difficult to process large amounts of tasks in a limited personal PC memory using nodes.
For this reason, the memory policy option is set to 'Write tables to disc' and the node is executed using the resources remaining on the hard disk.
At this time, my questions are as follows.
Based on the Windows environment, which path on the hard disk creates a temporary file when the node is executed?
If you know anyone, please answer politely.
PS. The node operation I am trying to execute is as follows.
After creating 25 million rows data (with 1500 columns) using the 'Data Generator' node, I'll try to store the results in HDFS using the 'Parquet Writer' node.