Hello all.
I'm learning KNIME system to replace Excel.
I tried to use 'sorter' node to see the highest number in a string.
However, even i use that node and set to sort by 'descending', numbers in a string were not changed.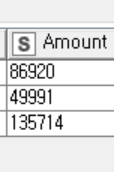 please see the attached file i uploaded
how can i solve this problem?
or, if you have any recommendation to see the highest number, please tell me.
Thank you.