Hi there, hope everyone is safe and well. I am trying to reformat a data set from JSON Path and I absolutely cannot figure out how. In Excel, since each data type (or data point) has a fixed number of set (each gets 10 placeholders whether data exists or not), I have a formula and references hardcoded to transform the data set. I've been trying to move that part of the process to KNIME to ETL into database, but I am not able to figure out how and it's still on Google Sheets with a bunch of fixed references and formula sets. Google Sheets is slow so wanting to process it in KNIME.
Here is the sample data set.
Original


Want to change it to this format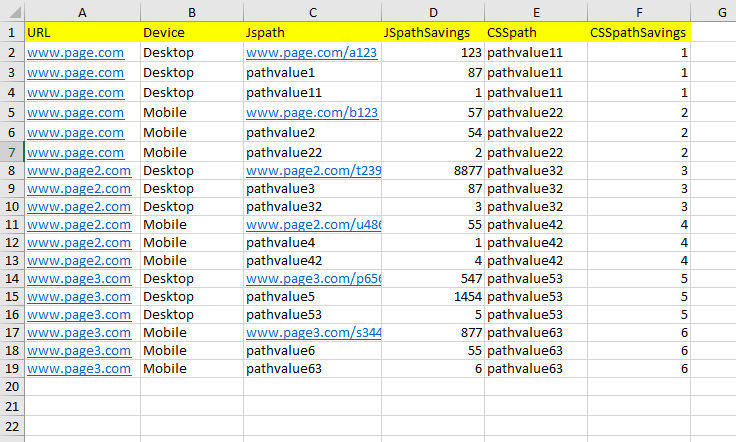 Here is the Excel with sample data set.
sample data.xlsx (19.7 KB)
This API returns diagnostic data about single URL and after parsing the JSON, I have single row representing a URL with all the metrics as cols (600+). About 300 those come in as set of 10 whether the data exists or not. I want to reformat those that come in as set of 10, moving cols into rows with 1 URL row now becoming 10 URL rows. Hope the sample data set makes sense. I'm totally willing to spend the time to learn and work on it, but at this point after some chunk of hours/days I am not clear on what nodes are appropriate for this task…piviot/unpivot, group/ungroup, some sort of loop processing… If someone could kindly point me to the right direction or share some node ideas, I'd like to follow your guidance and try out creating a workflow.
I appreciate in advance for your time and kind support. Hope you have a great day. Thank you!!