I love the performance the Remote Workflow Editor gives me when editing Workflows located on KNIME Server. But I'm running into a lot of frustrating limitations. I'm wondering if I'm doing something wrong?
Limitation #1: Cannot Add Components
My KNIME Server has a lot of pre-packaged components I'd like to add to my workflow via Remote Workflow Editor. But it seems I am not allowed to drag-and-drop these components into my workflow. I can copy-and-paste them if they are already in my workflow. But I cannot add new components. Is there a fix for this?
Limitation #2: Cannot Configure Components
If I double-click on a component within Remote Workflow Editor I cannot configure the component. Instead just get this error message (below). How should I be configuring these components remotely?
Limitation #3: Cannot Rename my Remote Nodes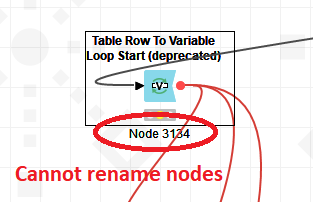 I cannot edit the tags on my remote nodes and must be happy with the default. Is this expected?
Thanks!