Hello,
in Column A, some cells contain an extra space in the start of the cell and some don't.
"ab" starts with a space and "f" does not.
What I need is an if statement to remove the extra space at the start if there is one. otherwise just keep the value in the cell.
Can someone recommend me a node and a way to do it.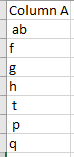 Thanks in advance
Book2.xlsx (8.6 KB)