Hello everyone,
I have following problem, I need to segment players based on specific KPIs on a percental split.
So I get buckets with low, medium, high, with the size of 60%,30%,10% of the sample depending on the KPI.
I'm not quite sure what would be the best approach here, I kind of found some workarounds with using an auto-binner and just creating 10bins, the first six, mid 3 and top 1 but as I have to do this for 20+ KPIs it will be pretty tedious.
Is there an easy way I didn't think of yet?
Goal at the end is to go from this: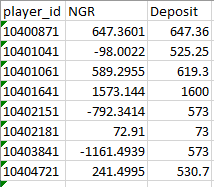 to this:



(segment column is only filled exemplary of course)
I've attached a sample file in case it's needed.
I would be very grateful for any help

Thanks!
KNIME_test.xlsx (17.2 KB)