Hello Knime forum,
i'm using "Send to Power BI" node in Knime 4.1.1. in Win10 to overwrite rows in an existing dataset in my personal PowerBI workspace.
Authentication and workspace are ok (status = Authenticated and workspace = default).
In the dataset section i've selected the option "Overwrite rows" for existing Dataset and i can see the existing dataset name "test_powerBI3",
but then i'm not able to select the table name "iris" inside this dataset (wich is the only table present): in the dropdown list i can only see the message "Authenticate to select table" and no more options (see img)…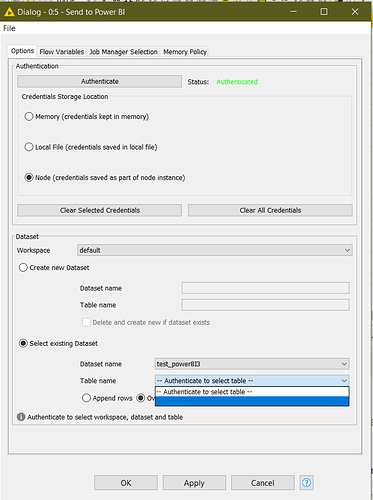 I've tried all the 3 authentication options, close/open/reset workflow and restart Knime but the behaviour is the same…
Am i doing something wrong?..
Thank you for any feedback
Ema