I've recently started having issues with my SharePoint Online connections. Previously they were working well, but since moving to a new SPO site I'm having issues occasionally (but often enough to cause hassle).
Screenshot of my connection nodes: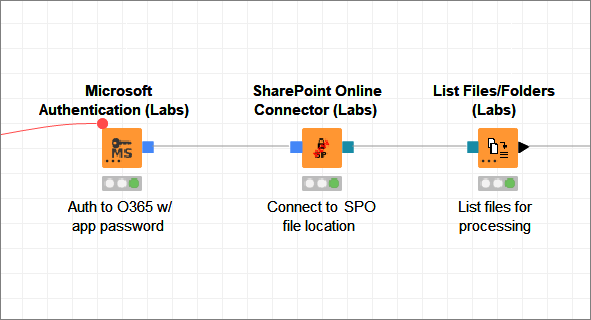 My issue is this – I am infrequently getting the following error from the SharePoint Online Connector (Labs) node:
ERROR SharePoint Online Connector (Labs) 3:1086:746 Execute failed: java.io.BufferedInputStream cannot be cast to com.microsoft.graph.models.extensions.Site
This error comes up when I use a flow variable to specify the 'site' value or if I use a hardcoded URL.
Here's where I think the issue stems from – I am using a subsite of a subsite (3rd level). So contoso.sharepoint.com/sites/main_site/subsite1/subsite2/. In my connector config, I have the following:
Note that I can't specify the main site and then choose a subsite in the dialog because my account doesn't have access to the main site or subsite1, so I get an access error. The only way I can connect is to enter the full URL in the site field. Is this causing my occasional errors?
To resolve the issue I either have to restart KNIME, or change some settings in the connector and then change them back, but i can't automate my workflow if this is required.
Any experts on the SharePoint/O365 integration nodes out there? Thanks!