I am trying to replicate the functionality of Vlookup in Excel using wildcards, but am unable to figure it out. Here is an example of what I need to do: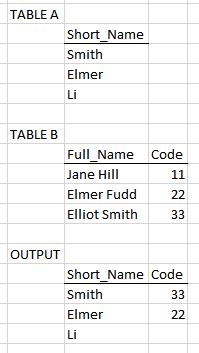 Table A has part of the names of people I want to look up (Short_Name). Table B has the column Full_Names that I want to search through, find cells that contain the Short_Name sub-string, and return the corresponding code. Table C shows the result.
Were I looking for perfect matches between [Short_Name] and [Full_Name] strings, I could just use a Joiner Node or Cell Replacer Node. The problem I am running into is that neither of these allow for searching for a sub-string in Table B (as far as I can tell).
The only solution I have seen thus far involved using the Cross Join Node, such as is suggested in this post.
This will work fine for smaller data sets, but with larger ones this could result in billions of rows. Not sure how well my old pc is going to deal with that. Maybe it will not be a problem, but it seems like a rather inelegant solution.
Any other ways to approach this?